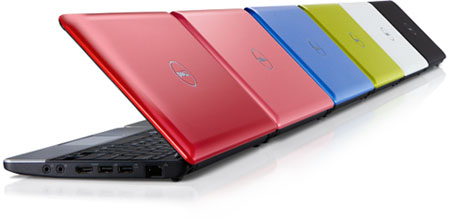 I wouldn't be surprised if everyone on campus starts bringing their Dell Inspiron Mini 10s to their lectures in a few months' time. They're cute, the specs are decent, and they're highly portable (weighs only 1.3 kg). The new Dell Inspiron Mini 10 comes in five colorful flavors and comes with 1GB of RAM, windows XP, and a 120GB or 160GB hard drive. You can use Dell's free online storage service of 2GB if that's not enough and if you wish, you can increase this to 100GB if you're willing to part with some cash (it's probably better if you get an external hard drive).
Other notable features include a bright 10.1″, seamless widescreen display with a 16:9 aspect ratio, a 92% size keyboard, a multitouch trackpad, a webcam, 802.11b/g WiFi connection, TV-tuner USB accessory, and an optional Bluetooth 2.1.
No news as to when the Dell Inspiron Mini 10 will hit the Philippines but according to Shiny Shiny, they'll be out in the UK by February 26 for a price of £299.