Ever since the first ASUS EEE PC came out, netbooks have gotten bigger and lost the one trait that made them attractive in the first place: size. Why go for a 12-inch netbook when you can just get a more powerful laptop? The new Asus EEE Seashell, however, reminds me of the convenience and ease of use a netbook is supposed to provide. I was lucky enough to get my hands on a demo unit when I went to New York on vacation, and this is my review.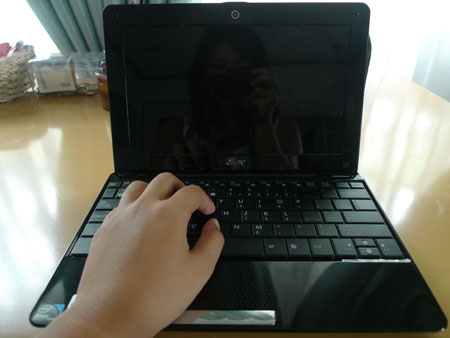 Design and Feel
For P23,000 (suggested retail price), you definitely get what you pay for. At 2.4 pounds and just an inch thick at the thickest point, the Asus Eee PC Seashell was incredibly satisfying to carry around. It's thin enough for me to slip into a large purse, but not too thin to make me worry that it might break into two under more powerful hands. The sides of the Seashell stay sleek because tethered rubber stoppers hide two USB ports, Ethernet ports, and a socket for the headphone, mic, and mini VGA. I like that each of the USB ports were located on both sides of the machine, avoiding the annoying, "I can't use my second USB device because my other USB device is in the way" issue.
I wasn't too crazy about the glossy finish of the black demo unit because the fingerprint smudges drove me nuts, but its tapered edges and beveled-keyed keyboard felt like those of a first-class machine. The keyboard, in particular, was a delight to use. I remember how I kept making so many typos on the first generation Eee because the keys were too small and too close together. The keys on the Seashell had just enough distance from each other to avoid typos, and I liked how the keys had a satisfying click every time you pressed on one. There's also a button on the upper left hand corner that controls the WiFi and Bluetooth, while a separate button turns the trackpad off. The trackpad itself was a little strange; instead of a smooth surface, the trackpad has a dotted texture that takes a while to get used to. Other than the odd sensation, the trackpad is fairly accurate and no trouble to use.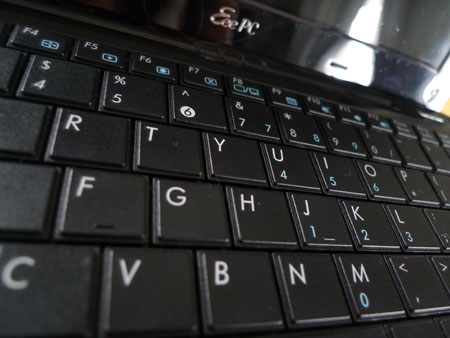 Performance
The insides of the Seashell pretty much resembles that of most netbooks. It runs on XP (thank God for that – I didn't have enough time to figure out how to use a Linux machine), has an Aton N280 processor, 160GB hard drive, 1 GB of RAM (which you can upgrade to 2GB), DHC port, 802.11n Wi-Fi, and Bluetooth 2.1. The Seashell's real selling point, however, is its battery life. Asus claims that the its integrated lithium polymer battery has a 6-hour running time, but I only got around three hours and a half. How do I know this? I loaded two movies onto the Seashell's hard drive – one was an hour and a half long, the other was two hours. I saw both movies on the plane and the Seashell was gasping for power by the time the credits were rolling on the second movie. Still, three and a half hours isn't bad for a netbook; at least the battery is really light and doesn't add any unwanted weight on your bag.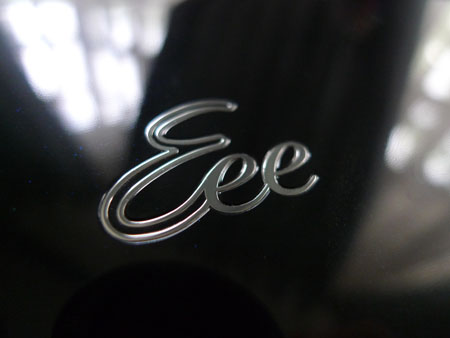 Problems
I did, however, encounter a serious problem that made it impossible for me to use the Seashell for the rest of my trip and pretty much defeated the purpose of a netbook. The WiFi refused to recognize any available networks, even if the router was right in front of me. At first I thought I was just being stupid and forgot to turn the WiFi on but according to the Asus forums, the Seashell is notorious for its WiFi woes. For those of you who experience problems connecting to WiFi on your Seashell, this advice from the forums might be able to help:
Right click on the Wireless icon in the system tray.
Left click on Open Network Connections
Right click on Wireless Network connection
Left click on properties.
On the window that opens it says connect using..and shows your wireless card with a button that says configure next to it. Press configure. On the window that opens is a tab called advanced. Down arrow to power save mode and set the pulldown to maximum. Click OK and reboot. Connect using encryption and let us know if you stay connected.
I wish I could tell you for sure if the procedure above worked, but I was too lazy to troubleshoot the Seashell myself. 😛
Conclusion
The Asus Eee Seashell is a very tempting buy because of its sleek and beautiful form, but what might deter others from buying it is that it's not beautiful enough to make it worth paying extra. The Seashell costs a couple more thousand pesos than its similar-performing though slightly chunky counterparts and though its compactness makes it a dream to carry around, I wouldn't mind carrying something a little heavier if it means spending less. Then again, you can always wait for the price to drop, which I'm sure it will in a couple of months.