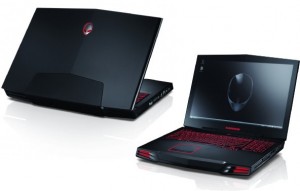 It's normally a bad idea to go gaming on a laptop because of its slow processing speed, but Dell's Alienware line has gaming laptops specially designed to handle heavy graphic programs that eat up a lot of RAM. Just recently, Alienware announced the release of the M17X gaming laptop, which they claim is the most powerful 17-inch laptop in the universe. And with the specs of the base model alone, it looks like they might be right. Underneath the stylish casing and illuminated keyboard lies the following specs:
1GB nVidia GeForce GTX260M GPU
Intel Core 2 Duo 2.4GHz P8600 processor
4GB RAM
250GB 7200-rpm hard drive
4x USB drive
Slot-loading DVD-RW drive
9-cell battery
nVidia GeForce 9400M G1 GPU with HybridPower technology that lets you scale graphics back to save on battery power
802.11n Wi-Fi
The DVD-RW drive can be upgraded to a Blu-Ray one but if you're going to do so, you're gonna want the 1920 X 1200 resolution LCD upgrade to take full advantage of the Blu-Ray goodness.
Only downside: the Alienware M17X runs on Windows Vista. And did I mention that the base unit starts at $1,799?