I was excited to get my SMART LTE pocket wifi which I reserved a week ago.I had known of this upcoming service when SMART gathered a few bloggers at Hard Rock Cafe to test out the LTE speed goodness using a Huwaei pocket wifi. I signed up for the most affordable LTE data plan of 1749 pesos for a 10 GB plan a month. I could have chosen the free LTE dongle but I wanted one that could be shared by my other devices.
The Smart LTE dongle, worth P8,000, comes absolutely FREE on plan 3500 and plan 1749 or get an LTE Pocket WiFi by just paying a one time fee of P2,000. "LTE for All—with the Smart LTE Pocket WiFi, any WiFi-capable device can now be an LTE powered device", said Smart Broadband Internet Data Services Head Lloyd Manaloto.
I believe I am the first customer to subscribe to the pocket wifi ( at least Abbie Real thinks so) . I braved the Friday weekend sale at Robinson's Galleria to get my unit but only to be told it would be ready in the afternoon. That didn't stop me from pursuing my application. I had my papers processed: proof of income and two Identification card ( I only had one government-issued ID so I showed my credit card). New Smart LTE subscribers have the option to upgrade to a Smart LTE Pocket WiFi device. I paid a one-time fee of P2,000 plus one month deposit of P1,749. Since I didn't bring my income tax return, the initial payment of 3,749 pesos was charged to my credit card and the first month to be charged as well when the time comes. Succeeding months will not be charged to the card though.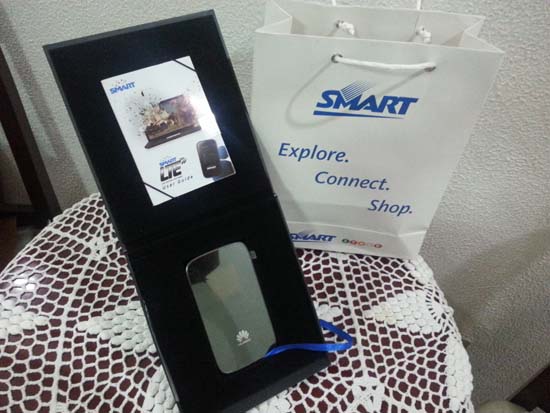 I was surprised to see a cute triangular box. When I opened the box earlier at the SMART Galleria branch, the SIM card was slipped inside the brochure at the top.
The USB cable and charger are placed in another partition.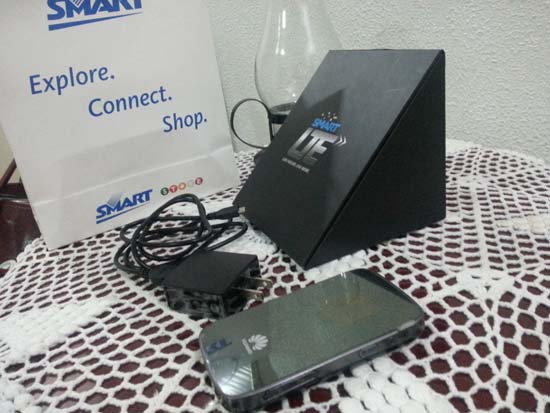 It feels like a small cellphone on my hands. And a bit heavy.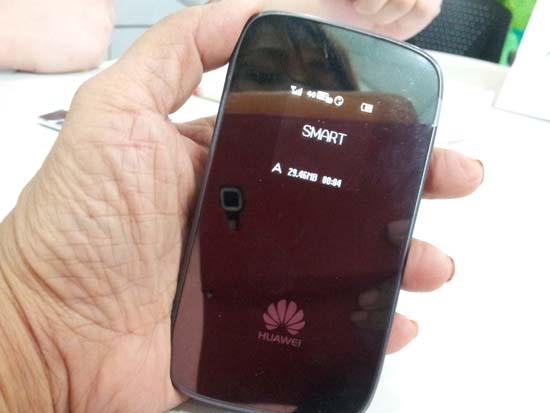 Of course, I just had to test the speed right there at the Smart Galeria knowing the area had LTE coverage. You will know if it has LTE coverage when 4G is shown on the display. Speedtest results show a download speed of 10 MBps and an upload speed of 2.7 MBps.
I still have to check the speeds in other LTE covered areas. In my home, I get a 4G signal with one bar and in an event I covered in Quezon city, I was getting 2-4 mbps download speed. I hope there are more LTE covered areas. I can't wait to test this latest toy of mine.
Check out SMART 4G LTE map and the establishments that provide LTE.
More details here.
With Smart LTE Plan 1749, you receive:
A Smart LTE dongle that is capable of going at blistering speeds of up to 42Mbps
10GB of data
Expanded coverage in key cities around the Metro
Also compatible with 2G/3G/HSPA/HSPA+ networks
24 months lock in period
With Smart LTE Plan 3500, you receive:
A Smart LTE dongle that is capable of going at blistering speeds of up to 42Mbps
21GB of data
Expanded coverage in key cities around the Metro
Only for P3,500 per month
Also compatible with 2G/3G/HSPA/HSPA+ networks
24 months lock in period
Application Requirements:
Subscriber Application Form
Proof of Identification (i.e. company ID, driver's license, SSS or TIN ID)
Proof of Address (i.e. utility bill, bank statement)
Proof of Income (i.e. ITR, COE, Bank Account Statement