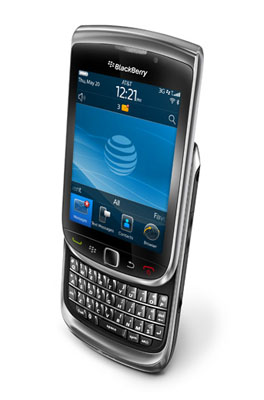 Research in Motion (RIM) just unveiled the new BlackBerry 6, a new OS for BlackBerry smartphones that delivers a fresh, engaging experience that's easy to use. The BlackBerry 6 features a redesigned interface that works with both a trackpad and touch screen, expanded messaging capabilities, a new Universal Search tool, and an efficient new WebKit-based browser that allows you to load web pages quickly for a beautiful and convenient browsing experience.
Old BlackBerry users are going to like the redesigned interface, which is more intuitive and clean. You can easily organize your content and applications on the Home Screen; simply select one of five customizable views (All, Favorites, Downloads, Media, and Frequent). Also new to the BlackBerry 6 are the context-sensitive Action Menus – simply clicking and holding the touchpad allows you to bring out the most common tasks and actions of an application for easy access. Multitasking is also made much easier by holding down the Menu key, which opens a grid of all running applications. Switching from app to app has never been so convenient.
Perhaps the feature that will capture the interest of most is the new Social Feeds application, which simplifies social network management and RSS feeds. It also lets you access Facebook, Twitter, Yahoo Messenger, AOL Instant Messenger, Google Talk, and Windows Live Messenger apps for the BlackBerry. In other words, Social Feeds streamlines your social networking experience, giving you an integrated view of your friends' activities and letting you post updates across multiple networks. The BlackBerry 6 is also equipped with a new Text Messages App. Now you can view your text conversations in a single thread, and share photos, video, and other multimedia content.
For more information on BlackBerry 6, visit www.blackberry.com/6. There are also screen shots in the Inside BlackBerry Blog.