Samsung keeps on coming up with new cameras, cellphones , Televisions, home appliances and what have you there. Sometimes, I can barely keep up with the product launches. But yesterday's intimate dinner with Samsung Philippines revealed something really exciting and useful for connected users like myself, the Generation C.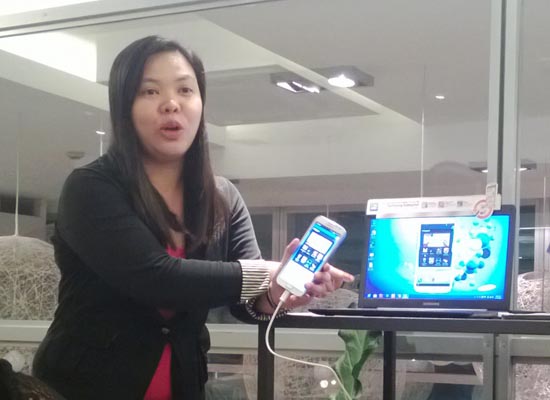 Samsung introduces its new product the Side Sync, an application that bridges the gap between your Samsung android device and PC.
With every day that passes, it seems that we've become dependent on laptops, smart phones, and tablets to accomplish daily tasks. This is the digital lifestyle we live in.
Side Sync allows us to manage and access all our information, side by side. Imagine your music, videos, and photos all over different devices. Side Sync allows you to share files between different devices. With just two easy steps, you can experience Side Sync by simply connecting your phones, via USB port. A pop-up window will then explain the different modes that can help manage file sharing easier, accompanied by an introduction to the program's Auto-Back up feature that charges your phone and ensures all your information will stay current and up to date.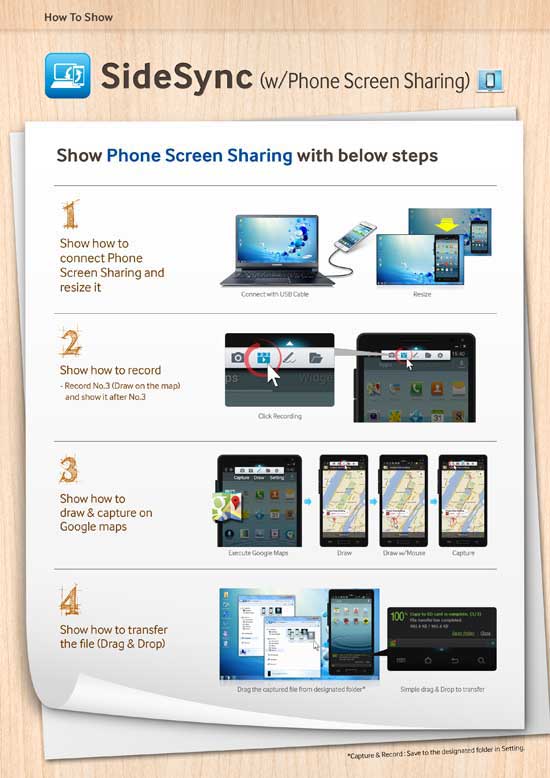 Once the software is installed, you can synchronize your PC and smart phone. The three main features of Side Sync, namely its Keyboard and mouse sharing mode, Phone screen sharing mode, and Simultaneous sharing and automatic contents backup mode, are the reasons behind what makes this product so great and revolutionary in its field, unique and original to Samsung.
Here is what you can expect from the Side Sync.
1. Seamlessly control your phone with keyboard and mouse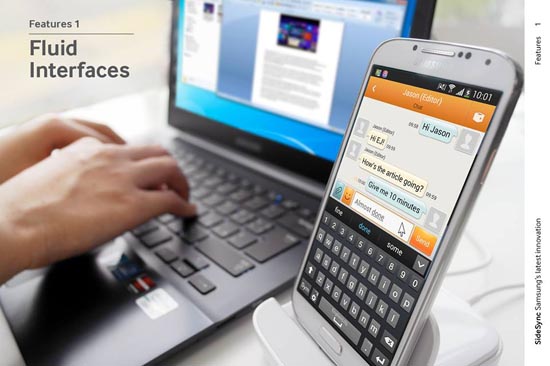 Don't you love it when you can reply to your SMS on your PC? Imagine being able navigate your mobile phone with a mouse. With SideSync, you can use both on your PC and your mobile. You can move the mouse to the mobile screen and the cursor will move from the PC to the mobile screen seamlessly. Click on the mobile screen to activate the keyboard.
2. Easily share contents between phone and PC
With SideSync, you can transfer music, photos, videos, games and more with a simple drag and drop. Using the mouse, click to drag folders from the PC screen to the mobile screen and vice-versa. When I first saw this feature, I just can't believe my eyes that one can move around from PC to mobile.
3. Automatically backs-up your phone's data to PC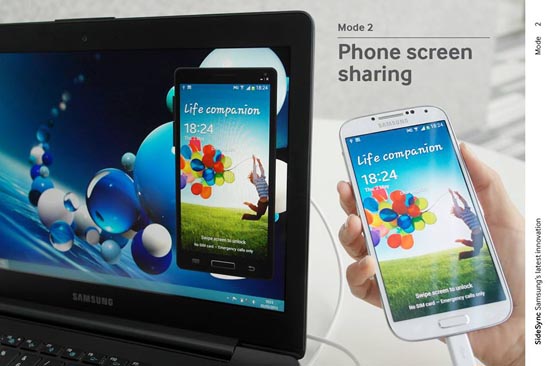 Every time you connect to SideSync, your mobile data is automatically backed up.
The only scary thing about sync is deleting the phone data before checking if it got fully backed up on the PC. Users should check first the PC before deleting the phone's data.
Using the side sync will make most of us productive especially when replying to important SMS without taking away ourselves from the PC. If you want to try the Samsung SideSync, visit any of the latest Samsung shops (SM Dasmarinas, SM Lanang, SM Bacoor, SM Gensan, SM North Annex, Ayala Mall Centrio CDO, SM Cebu and Festival Mall) .