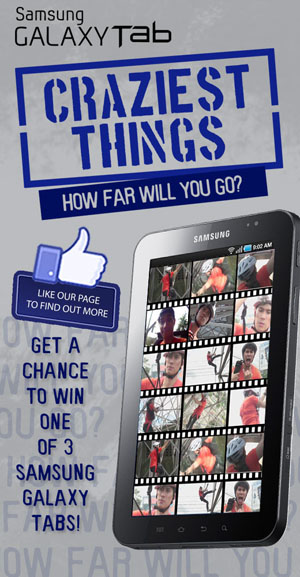 What would you to do win a Samsung Galaxy Tab? Would you jump off a high building (with a parachute strapped to your back)? Eat disgusting food? At the Craziest Things Video Contest, Samsung is giving out three Galaxy tabs to three crazy people who can show them just how badly they want to win!
To participate in the contest, you have to be at least 18 years old at the time of joining. Then, "like" the Fan Page on Facebook. Afterwards, create a 30-second to 90-second video that shows just how far you'll go to get a Samsung Galaxy Tab. Make sure the video and audio are viewable! And don't forget to wow the judges with you creative concepts and high video quality. Of course, racy videos are not allowed, especially if they promote profanity, violence, and discrimination.
As soon as you're done editing the video, upload them onto YouTube and tag your entry with the keywords Samsung Galaxy Tab Craziest Things. Save the URL and post it in the Samsung Galaxy Tab Craziest Things Wall and tag your name using (ex. @name). You can upload as many videos as you want!
Contest ends on March 17, 2011 so take your videos now! For more information, view the Samsung Galaxy Tab Craziest Things Facebook page.