Two days ago, I shared my unboxing and first impressions of the blazing red Realme C3. I am loving this feature packed phone and I could use this as my secondary phone. Though my main phone is an iPhone, I used to own a Nokia 6.1, a mid-range Android smartphone which I bought last year. My daughter got my Android phone early this year, so I was really shopping for a new Android. That is the beauty of being introduced to new cellphone models such as the Realme C3. The C series is Realme's entry-level phone. The features of their latest phone are amazing considering the value packed features for the price point.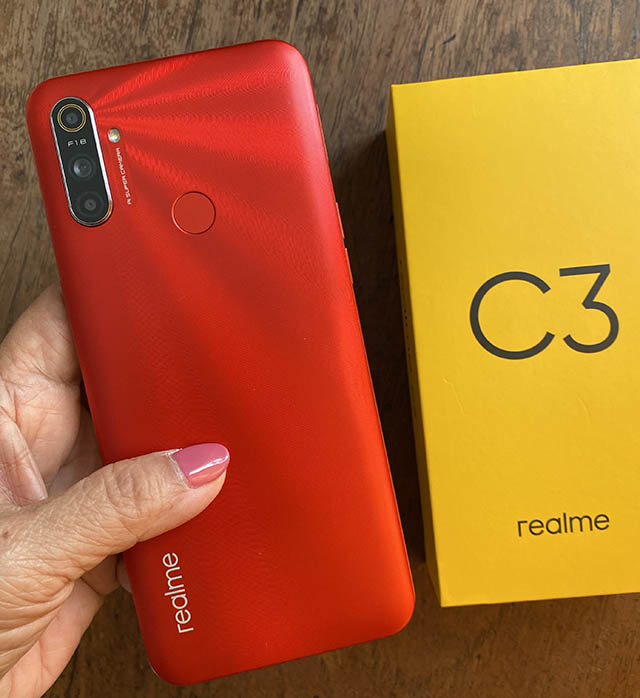 Here are the five features to love about the Realme C3
The Triple Camera Setup (12MP Main, 2MP Portrait, 2MP Macro) can get you creative with this triple camera setup
FIRST Helio G70 Processor in Philippines is built for Gaming-Class Performance using the High Settings Gaming.
Long-battery life (5000mAh) smartphones
Large display of 6.52" HD+ Display with Corning Gorilla Glass 3 . It comes with 3GB + 32GB RAM & Storage Configuration
Affordable price of PHP 5,990 with the value packed features destroys all other entry-level smartphones with C3
Triple Camera Setup
The three rear cameras comprise a 12MP f/1.8 main, 2MP portrait, and 2MP macro lens. Though my previous Android was a medium range phone, the photos lacked details and colors. Some of my selfie photos are good as long as there is enough sunshine. The "more" in the camera settings show the slo-mo, time lapse, expert, ultra macro and panoramic modes. Of course the beauty mode is there. What I like about the selfie is that my face doesn't look too washed out, and filtered to the point that I don't look like my senior age. I want some wrinkles to show.
Here are some of my photos which I took at Flor's Garden where I am currently taking a natural farming/JADAM seminar for three days.
Both of these photos are from the selfie camera with 5-megapixel selfie lens.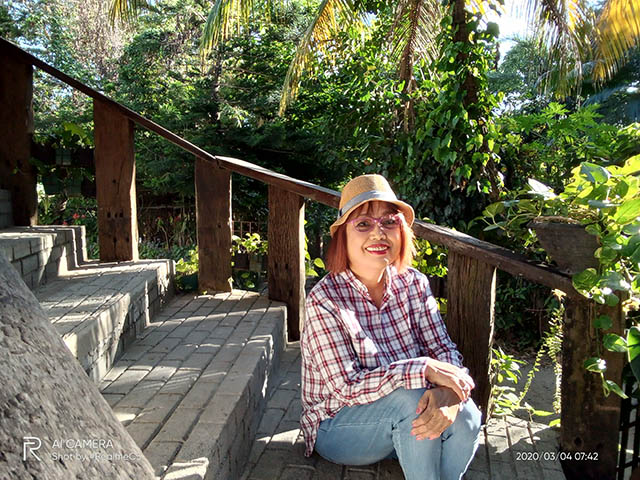 Taking greenery is important to me because I take a lot of nature shots at the farm. Colors are brillant.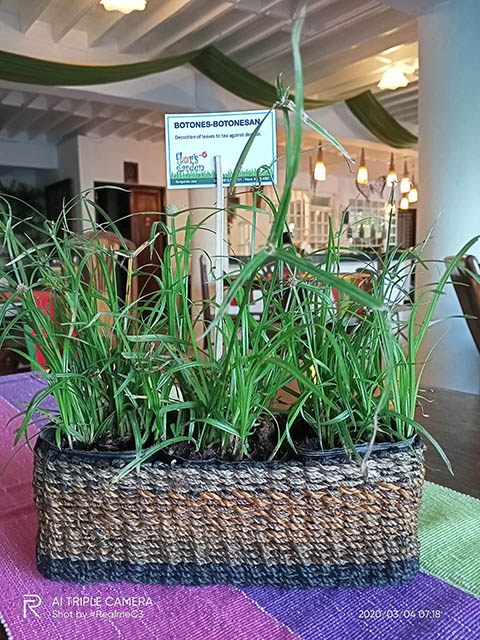 Food photography is good.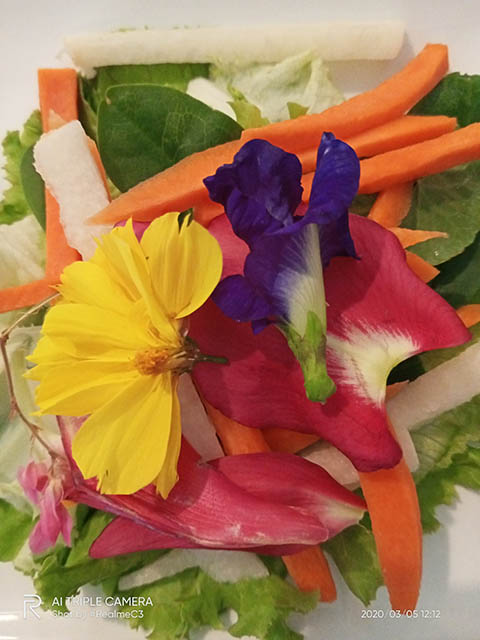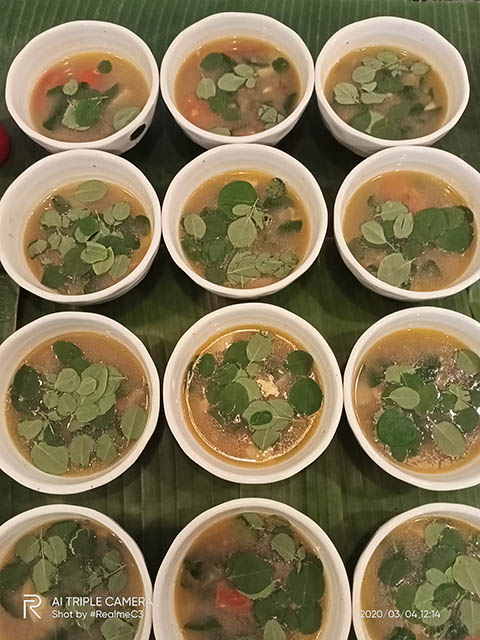 The ultra-macro shot is best taken with adequate light.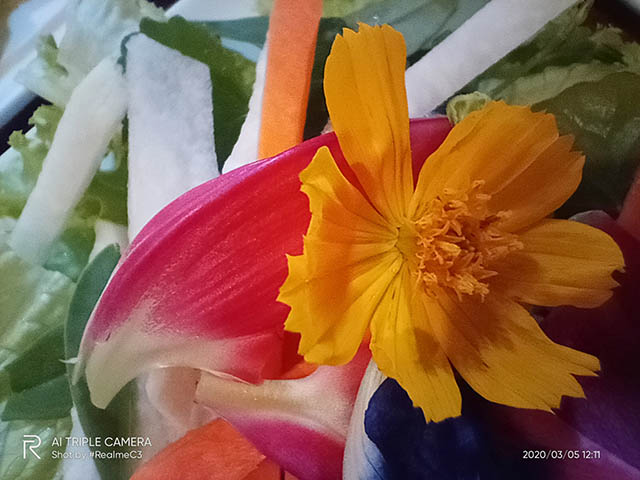 Taking low-light photos is possible. The camera sends out a notification that more light is needed.
The living space was getting dark already but the photo still came out
Missing in my sample shots, are ultra macro, zoom and panoramic. I will update the photos as I take them.
Gaming-Class Performance using the High Settings Gaming
I must confess that I am not into gaming so I am not an authority when it comes to how the phone responded under High settings. The simple games like Wordscapes and Adorable Home that I play with worked like a charm. With the 3GB + 32GB RAM & Storage Configuration, Realme C3 managed to score 162,513 in AnTuTu, defeating 12% of users, which is slightly lower than the Samsung A50 (163,219)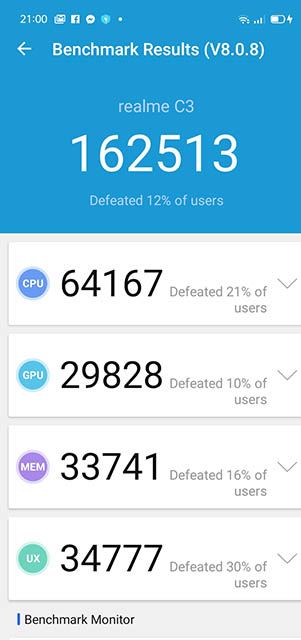 Long-battery life (5000mAh) smartphones
After 13 hours of camera use, light social media usage, browsing, facebook messaging and email, I still had 58% battery life. Goodbye to bulky mobile packs with this phone.
Large display
I love the 6.5 inches display and the 20:9 aspect ratio making the phone quite tall and slim yet comfortable for my small hands to hold. You will see a dewdrop notch which encloses the selfie camera, a feature of most other Realme smartphones.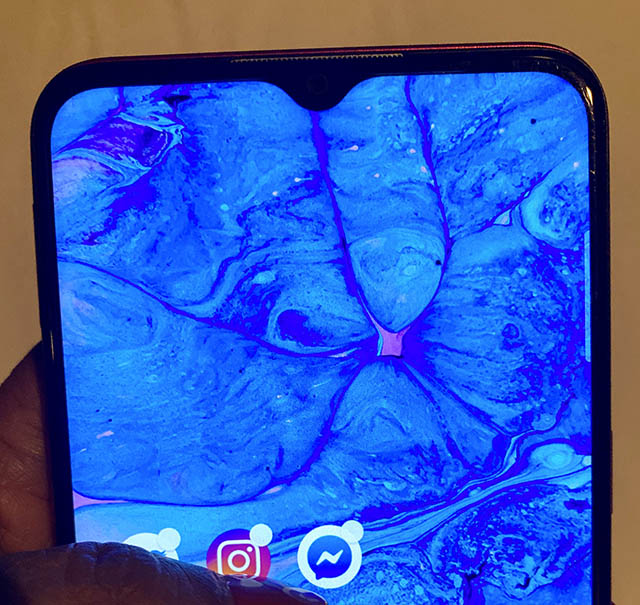 The Realme C3 runs on the RealmeUI V1.0 which is based onAndroid 10. This is the first smartphone from the company to ship with Android 10 out of the box.
Affordable price with the value packed features destroys all other entry-level smartphones with C3
With the features I have laid out here, the Realme C3 offers the best in processor, camera, design, and display for its price point. Compare with the competition and you will be blown away.
The realme C3 is available for PHP 5,990 across realme stores nationwide. The triple-camera gaming monster is now also available on the official realme stores in Lazada and Shopee.
As a special offer, the first 1,000 purchasers of a realme C3 on Lazada on March 5 will take home a free realme Buds 2 worth PHP690. Shopee is also giving a 10 percent discount on the realme C3 for the first 1,000 shoppers through the voucher code SHPrealmeC3. The Shopee discount promo lasts until March 15, 2020.