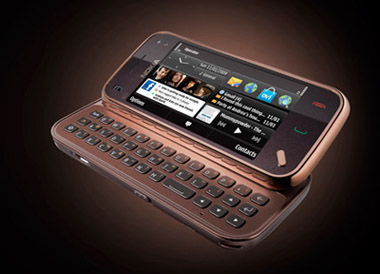 At Nokia World 2009 in Stuttgart, Germany, the Finnish manufacturer unveiled several new mobile phones for us to covet. Most notable of the phones they released is the little brother to the Nokia N97, the Nokia N97 Mini. Despite being called "mini" it's not actually that much smaller than its larger counterpart. It's 4.4 inches tall, 2 inches wide, and .5 inch thick and has a 3.2-inch tilting touch screen, and a slide-out QWERTY keyboard. The mini will also be running a new software that brings a much improved user interface like flick scrolling, home-screen widgets, and support for more social networking tools. Nokia tied up with Facebook to allow users to update their status to their profile pages via their Ovi Accounts. The N97 Mini also comes with a new version of Ovi Maps that allows users to access information directly from Lonely Planet, Wcities, and Michelin, as well as Music Service Integrated, which gives user free music downloads.
Expect the Nokia N97 Mini to be available in Markets with an estimated retail price of $640.
Oh, and in case you're still wondering about the Nokia Booklet 3G's release date and price, it will be shipping in the fourth quarter of 2009 with a price tag of $817.