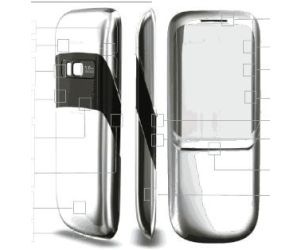 I don't know what use anyone would have for a luxury smart phone when a good old-fashioned regular smart phone will do, but the new Nokia Erdos may be just what the luxury smart phone market wants. The Nokia Erdos promo video and specs were accidentally leaked, and to be perfectly honest the specs don't seem very impressive.
The Nokia Erdos is a slideout phone with a 2.4″ QVGA OLED screen and a polished aluminum casing to match. When you slide it out, you uncover its keyboard, 5-megapixel camera with Carl Zeiss lens, and a dual LED flash. It also has an 8GB microSD slot, aGPS, WiFi, Bluetooth, HSPA connectivity, and a noise-reducing mic. The phone will also be running on an S60 OS.
If, on the other hand, sexy good looks is what you need to stamp the luxury label onto a mobile phone, then the Nokia Erdos definitely meets that criteria. Under the cut is the leaked promo video that shows off every single angle and crevice of the device. No news on release date or the price yet, but it's pretty obvious that a luxury phone will have a high-end price tag.