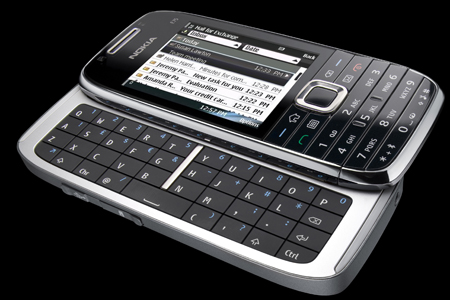 Remember the Nokia E75 and its unified messaging interface that combines email MMS and SMS into one application? Well, it's finally arrived in Philippine stores!
Made out of high quality materials, the Nokia E75 is the only Nokia phone with a keymat and a slide-out QWERTY keyboard. But what truly makes this outstanding is its easy mobile e-mail solution. With the efficient three-step e-mail setup of Nokia Messaging, sending e-mail on the go has never been more convenient. If you recall, Nokia Messaging supports the world's leading email accounts, including Gmail, Yahoo Mail, and Windows Live Hotmail, as well as Nokia's corporate email clients that provide access to 90% of the world's corporate inboxes. The Nokia E75 also integrates with the Ovi Store and comes with a year's worth of Ovi Files subscription for storing files online, Nokia's N-Gage games, and Nokia Maps.
Comes in silver, black, or red, and retails for P 25,800 at all Nokia stores and authorized Nokia dealers nationwide.