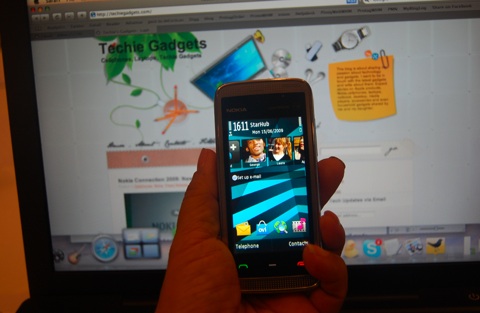 At the Nokia Connection 2009 in Singapore, we got the rare opportunity to play with the new Nokia 5530 Xpress Music phone. This touchscreen Xpress Music device follows in the footsteps of its best-selling predecessor, the Nokia 5800 Xpress Music phone, but is designed to handle the social networking needs of today's youth and urban professionals. Using one-touch shortcuts from the home screen, users can easily access their music library and popular social networks like Facebook and MySpace. The innovative "people carousel" feature allows you to select 20 thumbnails of close friends and get easy access to their communication history, including emails, photos, phone calls, and other social media updates.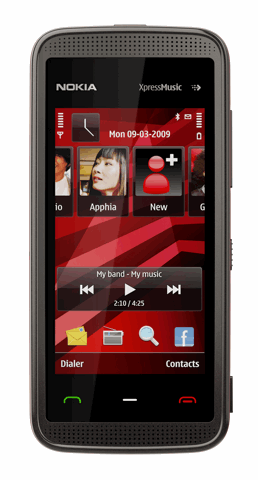 At the very center of the Nokia 5530 Xpress Music phone is a rich music and media experience. It's got 27 hours of playback time, a 4GB memory card for storing music and other data, plus the Nokia Stereo Headset WH-205 provides excellent audio quality and convenience with its tangle-free cable. With its crystal clear 2.9-inch widescreen display, it's easy to enjoy videos from YouTube or videos you took yourself. The pop-up Media bar also allows you to easily access music downloads, photos, videos, and online-sharing applicatiosn like Ovi Share and Flickr.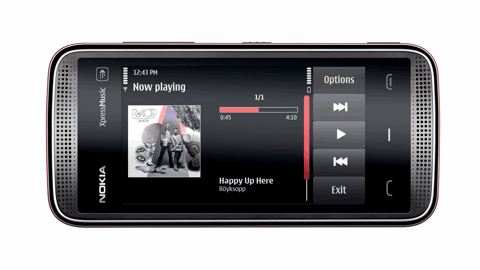 What makes the Nokia 5530 the ideal device for your social network and media needs is that it offers fast and affordable access to the Inter through integrated wireless LAN over wireless networks. Select markets in Southeast Asia can enjoy Nokia's collaboration with Boingo, which provides 3 months of free internet acesss to hotspots around the world in locations like airports, coffee shops, restaurants, and hotels.
Take note that the Nokia 553 is missing out on 3G connectivity and only allows for a slow EDGE connection but you will still get the full touchscreen, a 4GB storage via microSD, FM, Bluetooth, and 3.15 MP Carl Zeiss optics camera and WiFi.
Nokia 5530 will cost around 13,000-15,000 pesos, the cheapest touch screen music phone in Nokia's array of models.
Here are the complete specs:
Nokia 5530 XpressMusic Data Sheet