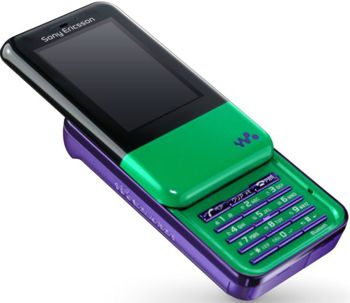 OMG. THIS PHONE. I WANT. And not just because it's candy-colored, cute, and appeals to my feminine tastes. Okay fine, maybe that's mostly why I want to get my hands on the latest Walkman phone from Sony Ericsson. But it's also because I love listening to music while walking, and Sony Ericsson's Walkman phones are the best in the market.
The cute purple-and-green gadget you see up there is the new Walkman phone, a slide-out called the Xmini. Featuring 4 GB of internal memory, a 1.8-inch LCD screen with 240×320 resolution, and a touch sensor, the Xmini supports mp3 files, AAC files, and the LISMO video service, which allows users to watch entire movies and TV shows on their handset or PC anywhere. The Xmini is also compatible with the au BOX. I'm not entirely sure what this is (or what the LISMO service is, for that matter) but apparently, the au BOX allows you to download music and video content through your TV or au mobile phone. Do we even have that sort of technology in this country?
There aren't many details on the Xmini's tech specs but I do know two other things about the Xmini. It comes in purple and green, white, and black, and it will be out on the market by the end of December. Wonder when it will reach the Philippines and for how much?
Check out the jump for more photos of the Sony Ericsson Xmini!