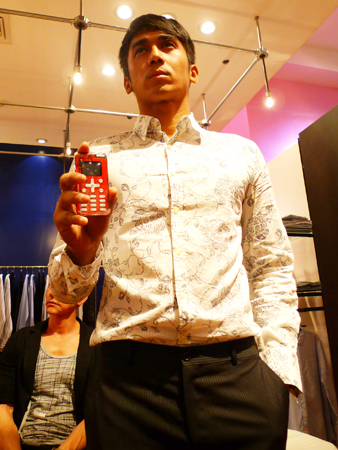 I have never heard of the Modu until last night, when I witnessed the launch of this exciting new phone from Globe through a mini-fashion show at Paul Smith Greenbelt 5. The Modu is touted as the world's lightest fully-functional phone by the Guinness Book of World Records, but this diminutive device is more than just merely record-breaking. Unlike the average mobile phone, which comes with a standard feature set, the Modu's looks and features can be completely customized according to your needs, preferences, and lifestyle.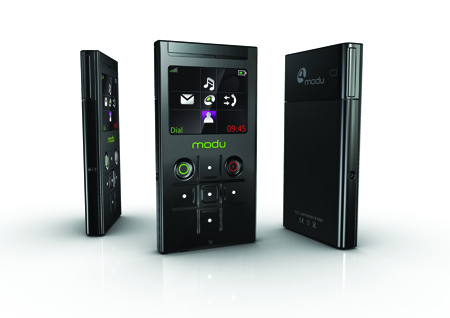 This is the bare Modu phone. It's only 72mm long, 37mm wide, 7 mm thick, and as light as a handful of air. Technophiles may be unimpressed by the Modu's simplicity, but for people who don't demand much out of the mobile phones like myself, the Modu is perfect. The bare unit allows you to call, send text messages, listen to a small library of mp3s, and store photos and other files in its internal 2GB memory. The beauty of the Modu is that those who do want more features out of their mobile phone can easily do so by purchasing jackets or modules.
Like the Nokia express covers of the early days of the cellphone, Modu jackets enable you to customize the look and feel of your Modu while retaining its small, compact size. You can choose from three curve-hugging Mini jackets available in metallic hues, or five Express Jackets with trendy hot skins. Although the Express Jackets have more attractive designs, they're a little too wide and feel awkward in my hand. I prefer using the Mini Jackets because they were designed with more ergonomic considerations – they follow the contours of the device and make it easier for you to hold.
But the Modu jackets aren't just there to make sure your Modu matches your outfit. Some specialized Modu jackets and accessories have features the bare unit doesn't have, enabling your phone to match lifestyle. The Modu Sports Jacket (right) is equipped with everything you need for a workout – a comfortable armband, a pedometer display, and the device's default mp3 player. With the 8″ Modu Photo Frame (below), you can enjoy picture slideshows of your loved ones while staying connected. It also comes with powerful speakers so that you can play the music stored in your Modu while you show off your photos. Then there's the i-mu Speakers, which doubles as a unique musical experience and a charging dock for your Modu.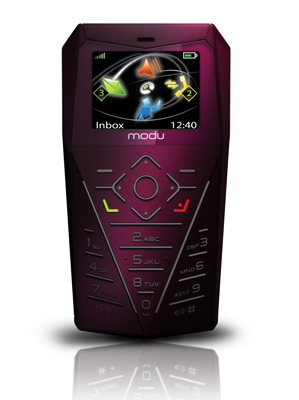 My favorite jacket is the Night Jacket, which was designed with night owls like myself in mind. Aside from giving the Modu a sleeker, updated look, the Night Jacket comes with a 3.2 Megapixel camera with flash and surround lighting so I don't miss any calls or text messages in the darkness of a bar. I may get this one for my Modu once it's available.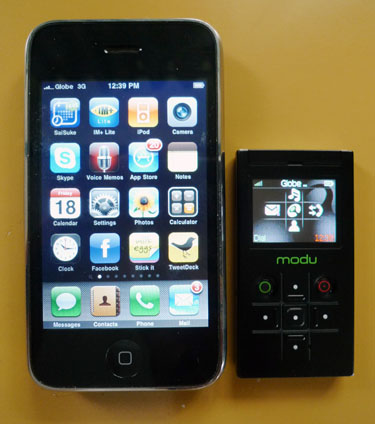 Starting today, you can grab your own Modu from Globe for as low as P7,999 with a Globe Tattoo prepaid kit. Each Globe Tattoo prepaid kit comes with one free Modu Express Jacket and a year's supply of Immortaltxt. For the entire year, you'll be getting free text allocations twice a week that enables you to send free messages to Globe and Touch Mobile subscribers, plus 10 text messages to other networks. You can also avail of Modu phones through Globe postpaid plans. The Modu will cost you P7,999 with the Plan 500, but new Plan 1200 subscribers get a Modu totally for free! New jackets will be coming in slowly throughout the year, and I can't wait to customize my Modu with them.
Visit modumobile.com to know more about the modu phone.
The 7999 pesos already comes with 3 jackets. For more information and pictures of the included jackets, please check here: http://www.kapitolyo.com/labs/globe/product/modu