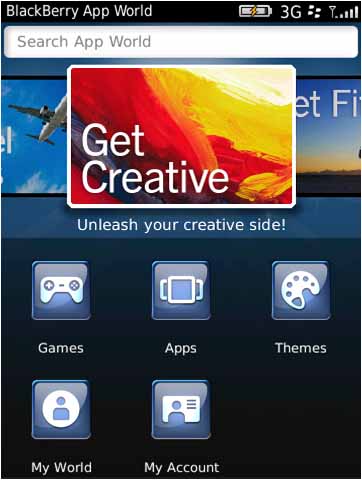 BlackBerry users might have noticed that BlackBerry App World suddenly got a lot prettier and more user-friendly. That's because BlackBerry just put the App World 3.0 out of beta mode, making it easy for BlackBerry users to download games, apps, and themes. Personalizing your BlackBerry smartphone with new themes, games, and entertainment has never been simpler!
New features include:
* Sleek New Design – The BlackBerry App World experience has been enhanced to help users discover the latest and greatest apps and content, starting right on the BlackBerry App World home screen where rotating spotlight banners show off all that's new and exciting.
* New Channels – Apps, Games, and Themes now have their own channels so users can get to what they want even faster.
* Introduction of My Account – My Account makes managing BlackBerry ID and payment options easy with direct access to all account information from the home screen.
* New My World Features – My World gives users a streamlined view of their apps and status, and now at a glance, in addition to seeing which apps are installed and uninstalled, users can manage subscription content and services. When new updates or subscription renewals are available for apps, users will be notified using push technology.
Try the new BlackBerry App World today!
* App Social Sharing – when a user finds an app they can't live without, they can share it directly from the app details screen through BBM™ (BlackBerry® Messenger),
Facebook®, Twitter™, email and SMS Evolved App Details Screen – At a glance, users can get a quick summary, check out reviews and star ratings, take a look at screen shots, and more More Search Options – Quickly find apps with a Search Bar now appearing on the storefront home screen and search results are presented across Channels as well as My World. Search Bars are also within each Channel and users have the ability to filter by App Name, Price, Rating, Newest, Best Match, or Popular