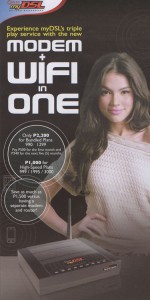 Click to enlarge
According to my repeated speed tests, PLDT myDSL has the fastest, the most consistent, and the most reliable internet connection in the house. So when we found out that PLDT will be releasing a new WiFi modem in November, we immediately decided to upgrade. This new device is basically a modem and router in one. Simply plug and play, and enjoy a fast WiFi connection up to 25 meters. High-speed plan subscribers can also connect simultaneously through WiFi, and its 4-port hub allows for more connections and accommodates future services.
The new WiFi modem will be available to myDSL subscribers for Plans 999, 1995, and 3,000 simply by adding P1,000. Subscribers of Bundled Plans 990 and 1299 can add P2,200 to avail of a WiFi modem that can accommodate up to 4 wired and multiple wireless connections. Current subscribers can also get the new WiFi modem for free if they upgrade their current myDSL plan to 1299 or higher.
For more information, visit www.myworldmydsl.com.