Google Drive will open up to millions of users around the world starting today, allowing users to synch their files between PCs, smartphones and tablets. The service is available here. I went to the link but discovered it is not available for my email account. It will, however, prompt you to place your email address to notify me of its availability.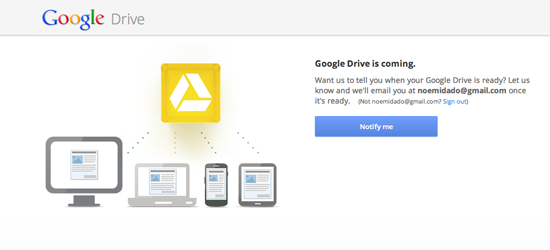 When I first wrote this entry, I didn't have access to Google Drive . I had to fill in my email to get notification. Google Drive said I would receive an email from the Google Drive team. One will also see a blue Get started button in the top right of your window when you go to drive.google.com/start.
A few hours later, I noticed the "go to Google Drive" on the upper right hand corner when I visited the link drive.google.com/start.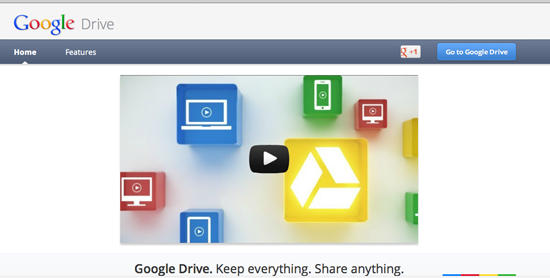 Upon clicking the "go to Google Drive" it leads me to my google docs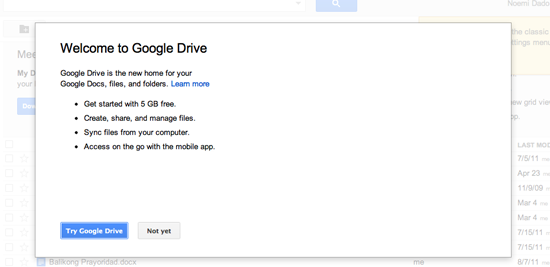 Then download the "installgoogledrive.dmg" which is 23.3 MB.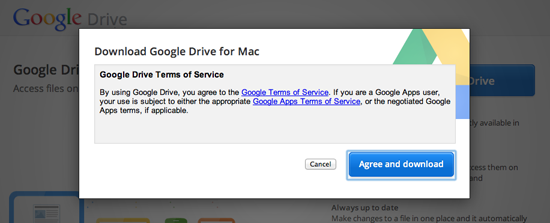 It took only a few minutes to install. It then allows you to transfer files from Google docs to the Google drive.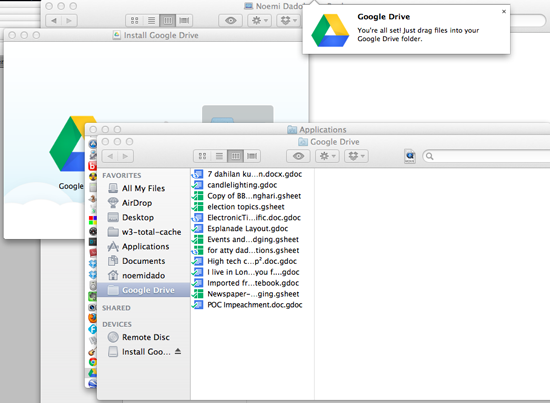 So what is Google drive?
Google Drive is everywhere you are—on the web, in your home, at the office and on the go. So wherever you are, your stuff is just…there. Ready to go, ready to share. It works as a typical cloud service, allowing users to store videos, photos, documents, PDFs, and other types of files. Not surprisingly, Google also announced a Drive app for Android, although Apple iOS users will have to wait.
Watch this video:
Existing Google Docs files, the centerpiece of Google's existing cloud storage offering, will move to the Google Drive service once users download apps and install the new service. Google will offer users up to 5 gigabytes of storage for free, and up to 25 gigabytes for $2.49 a month, with prices for larger amounts of data lower than many competitors.
Drive will be able to search and index more than 30 types of files, including Adobe (ADBE) pdf files. Google is also opening up the service to independent software developers, meaning developers with ideas for specialized uses of a cloud storage and collaboration service will be able to build specialized apps. Drive also allows files to be shared and co-edited by anyone.
Google Drive is available for:
PC and Mac
iPhone and iPad (coming soon)
Android devices