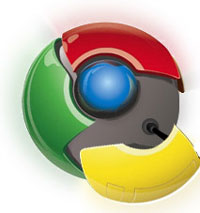 Google Chrome is my default browser whether in the PC or mac. It just seems so much faster and lighter. I don't really do much to maximize my Chrome experience until Aileen Apolo- de Jesus, Philippines Country Consultant sent me these tips.
1. Use Google Chrome extensions to make your browser even more powerful. Book flights on Philippine Airlines and Cebu Pacific, catch up on news with ABS-CBN, GMA and PEP/Spot.ph, look up forex rates with Banco De Oro, and much more, all in a single click, without ever leaving the web page you're currently on. There are over 1,000 extensions in the Chrome gallery to choose from, including ten
made especially for Filipino users.
2. Personalize Chrome with Philippine themes — choose from twelve specially created themes by local top local designers and personalities including graphic design studio Team Manila, renowned comic book artist Arnold Arre, and the School of Fashion and the Arts, to make your browser reflect your personal style.
3. Search or type in URLs using the omnibox. Just start typing and Chrome figures out whether you're entering a search term or website address and offers you suggestions of related search terms, URLs,
bookmarks or websites from your history.

4. Browse the web without leaving a trace using Incognito Mode. With Incognito Mode, pages you view won't appear in your browser history or search history, and they won't leave other traces, like cookies, on your computer after you close the incognito window. Especially handy when you're surfing from Internet cafes or shared computers.
5. Surf the web in any language using Chrome's translate bar. Whenever you visit a page that isn't in a language you know, Google Chrome's translation feature automatically detects what language it's in
and will ask you if you'd like to translate it to your preferred language. This feature uses the supercool Google Translate technology that works across 58 languages and can automatically detect and translate entire websites in less than a second.
6. Re-sort the New Tab Page – The New Tab page replaces the blank white page that other browsers show when you open a new tab and helps you get where you're going, faster, by showing up to 8 thumbnails of your most frequently visited webpages. You can drag and drop thumbnails to reorder them, delete ones you don't want to see, or pin ones you want to keep in place. You'll also see recently closed
tabs.
7. Search sites more easily by tabbing to search. To search another site besides your default web search engine, do a search on that site once, then in all subsequent cases just start typing the name of the site in the omnibox and hit "Tab" to search that site only.
8. Use Session Restore to get back tabs you closed accidentally. On the Basics tab under the options menu, select "Reopen the pages that were open last."
9. Bookmarks are just a click away with instant bookmarks. Like a page? Click on the Star to the left of the omnibox, and the page is automatically bookmarked.
10. Bookmark sync is a handy feature for those of you who use several computers — say, a laptop at work and a desktop at home. You can enable bookmark sync to synchronize your bookmarks on all of
your computers so that when you create a bookmark on one computer, it's automatically added across all your computers. This means that you won't need to manually recreate the bookmark each time you switch
computers.