It's too bad I missed the launch of Smart's School-in-a-Bag project . I had an equally important talk with Polytechnic University of the Philippines students.
Nelson Mandela says "Education is the most powerful weapon which you can use to change the world." Education is one of the most important tools a person can have in life.  Let me share this meaningful advocacy that benefits school children.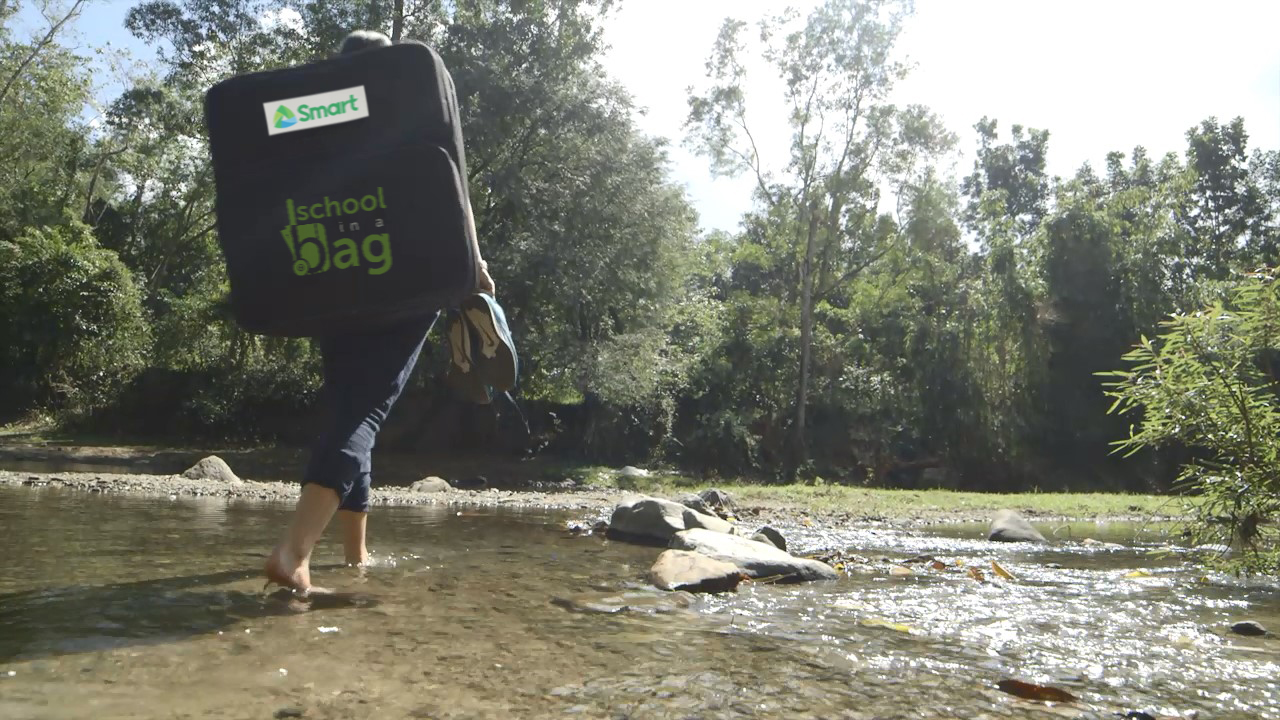 There are a lot of students that walk or swim just to go to school. Katrina Apelada is a grade two student at the Rawang Elementary School in Tanay, Rizal. Every day, Apelada and her classmates walk through hills and forests just to go to school. Their community is so remote that it has no electricity. Like most of her schoolmates, she has not seen, much more used a television, computer, or tablet.
Last July, Apelada and her classmates had their first encounter with technology. Smart Communications went to their school and donated a learning tool package called School-in-a-Bag. This contains a solar panel for electricity, a laptop, a tablet, a mobile phone, a pocket WiFi with starter load, LED TV, and learning modules.
"For so long, the Philippines has been divided by geography. This makes access to information extremely hard. Smart wants to unite the islands through internet connectivity. We go to schools in mountains, on isolated islands, places where there is no electricity, to bring School-in-a-Bag," said Darwin Flores, Smart vice-president for community partnerships.
Rawang Elemetary School is just one of 10 schools in remote areas in Luzon, Visayas, and Mindanao that will receive School-in-a-Bag units from Smart this year.
Technology for learning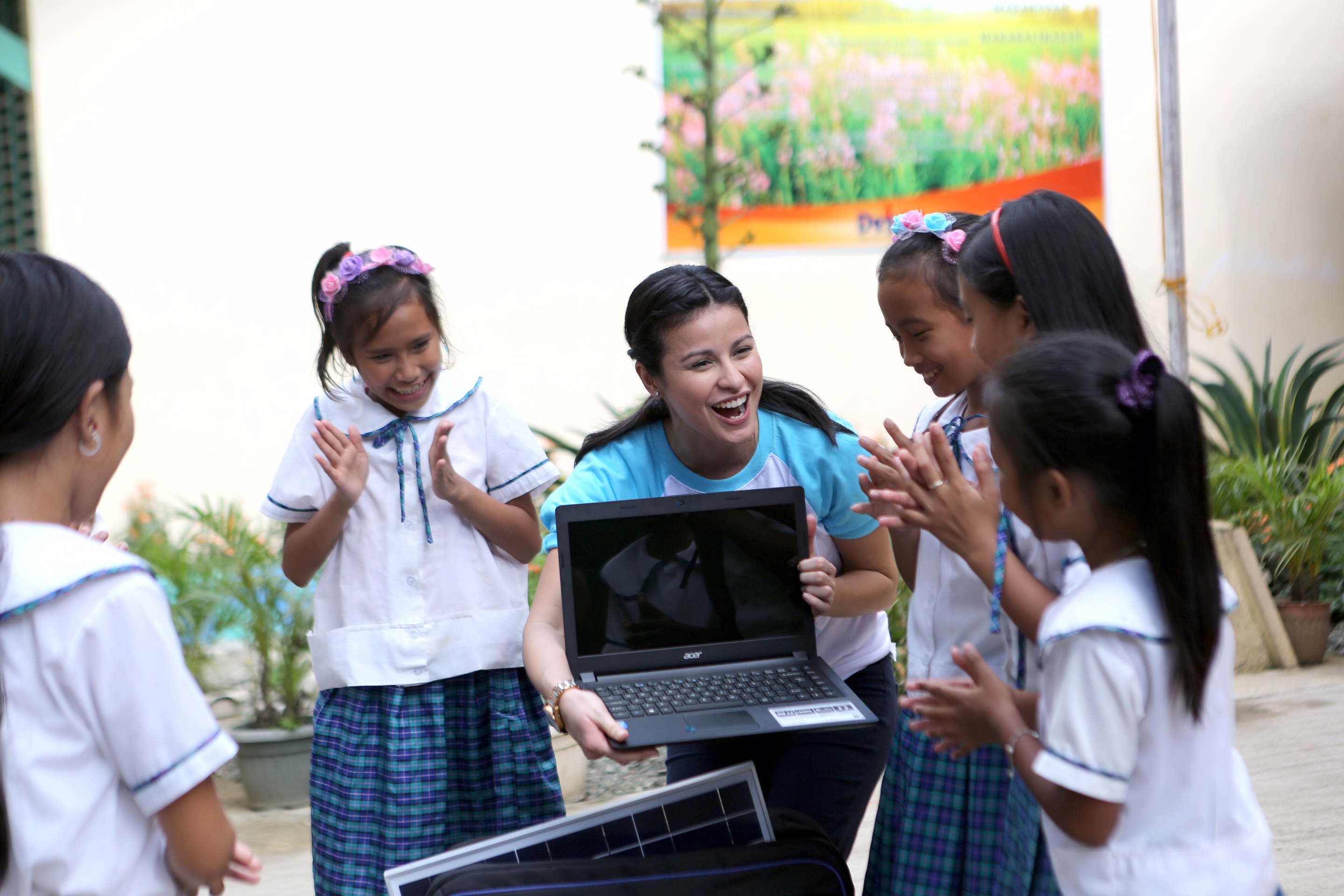 Maria Asuncion Tongohan, a kinder and grade one teacher, said the kids were wide-eyed and somewhat shocked when they first saw the digital tools. She herself was very excited when the School-in-a-Bag arrived. "We really don't have electricity here so when we saw the solar panel, we realized we could use technology in teaching."
Teachers can now connect to the internet and download educational videos using the Smart Pocket WiFi included in the package.
Classes can also use the Batibot mobile application pre-installed in the tablet. Developed by Smart in partnership with the Community of Learners Foundation and OrangeFix, this is the first learning app in Filipino that is aligned with the national kindergarten curriculum of the Department of Education. The Batibot app features fun games that help children in kindergarten up to Grade 3 learn basic concepts like matching, sorting, and grouping. Through the app, they are shown how to identify shapes, colors, numbers, the alphabet, and letter sounds. The children can also practice tracing letters with the proper strokes.
"I am very happy because now I can answer my teacher's questions after using the Batibot app," Apelada said.
"In our kinder class a while ago, I did not give my usually long lecture because we watched a Batibot video about triangles, which happened to be our lesson. Just by watching videos and interacting with the tablet, the kids can learn and understand easily," Tongohan said.
Happy teachers, happy parents
As a teaching tool, the School-in-a-Bag also contributes to the wellness of teachers. "Teachers used to lecture from 7 a.m. until 5 p.m. At the end of the day, they are exhausted, their voices hoarse," Arlene S. Catampatan, the school's head teacher, said. "The School-in-a-Bag is their new partner in teaching. It's not only beneficial to students but also to teachers."
Tongohan observed that the School-in-a-Bag gave students a deeper understanding of the lessons. "We can discuss the subjects more thoroughly with them because there's a visual component in the lecture. Instead of us just talking or drawing on the blackboard, the videos make it more interesting for them— especially for the little kids who want to see colorful visuals."
Catampatan added, "Our students are not just interested in learning, they are also more behaved because they are attentive when they see these new gadgets."
She also saw how appreciative the parents were when their children started learning more things in school. "The parents are very happy that there are kind-hearted people like those from Smart who donate digital learning tools to less-fortunate schools. When the kids come home they tell their moms the lessons they learned in the videos. They even sing nursery rhymes they learned for the day which, unfortunately, their moms have never heard of."
Bringing technology to more schools
"This is part of our digital inclusion efforts. We want to enable children in the most remote areas to participate in the global knowledge economy. There's so much to learn out there, and these technology and communication tools will help them gain access to this wealth of information," Flores said.
Attendance at Rawang Elementary School has also improved because of School-in-a-Bag. Catampatan said, "The kids have something to look forward to every day. They are excited on what they will watch today and the following day. School-in-a-Bag is really a blessing to our community."
Individuals and organizations can also bring the gift of digital learning to more schools in the country by sponsoring a School-in-a-Bag. Each package costs P100,000. For more information on how to donate, interested parties may send an email to [email protected].