I just came from a three-day "unconference" and I am so inspired. So much lessons learned in this "unconference".
Southeast Asia Technology and Transparency Initiative (SEATTI) together with Making All Voices Count (MAVC) and EngageMedia organized a collaborative learning event designed to bring civil society organizations and government in the Philippines, working in the area of open government together with technology/ media practitioners for a knowledge sharing and strategy roundtable.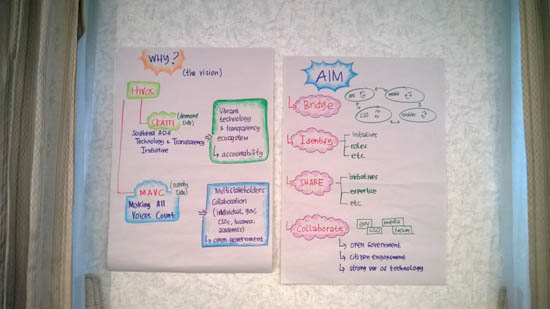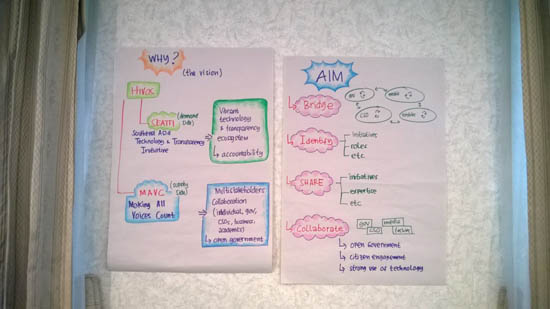 I was skeptical at first. I didn't want to stick around for three days and listen to speakers. What will I gain from it?
Cheekay Cinco of Engage media told me that the event will be modeled on Open space, a participatory convening model, with sessions focused on collaborative learning and driven by participants. She assured me  that the agenda will be designed to provide participating open government groups with practical advise and training to help them think strategically about how technologies can further their goals.
I was excited because this will be my first experience with Open Space technology. I will not discuss the output of the conference here but rather the activity that was conducted on the first day. You can read more at PCIJ's report on Transparency, info, and tech converge in 'unconference'.
Open Space "runs on two principles: passion and responsibility. Without passion, nobody is interested. Without responsibility, nothing will get done. Obviously, different people feel passionately about different things and it is also obvious that people will not take responsibility for something they are not passionate about."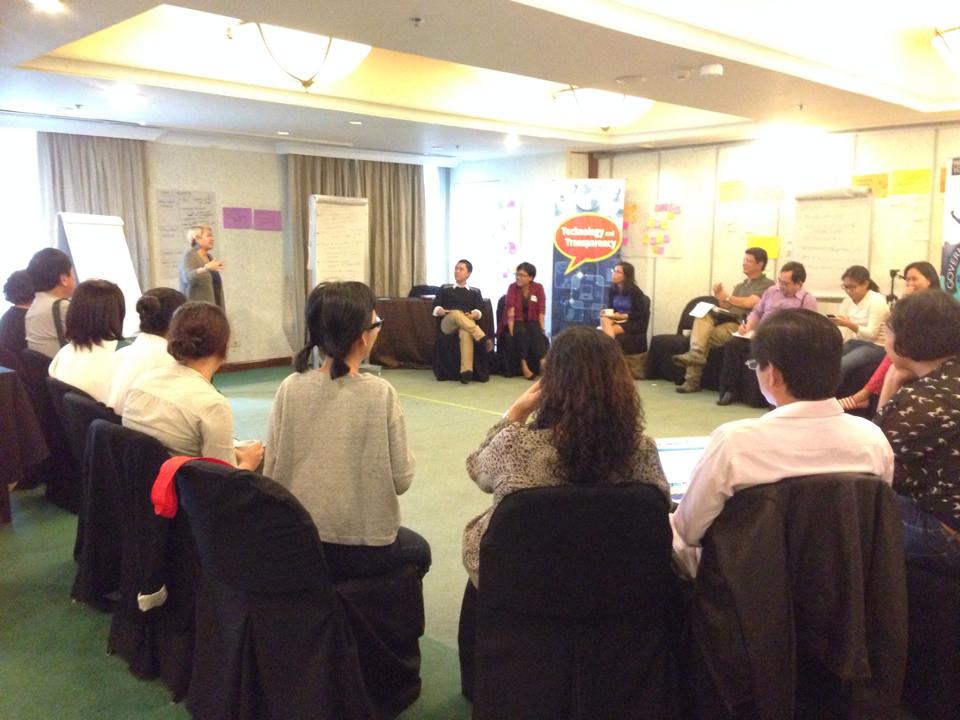 The circular chair arrangement signifies that all are equal here— both as knowers and learners. We, the participants faced each other equally, with the opportunity to work together to discuss and/ot resolve issues.
Cheekay , our main facilitator set the agenda for the day 1: introduction , jargon-busting, spectogram, agenda setting, visualizing data flow, and small groups discussion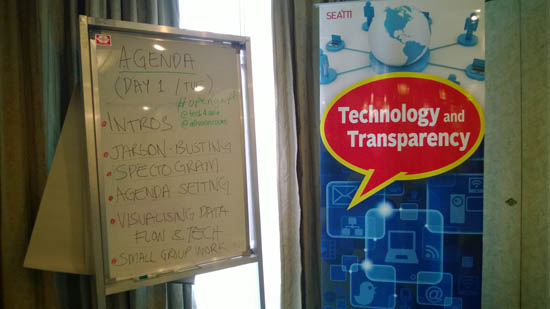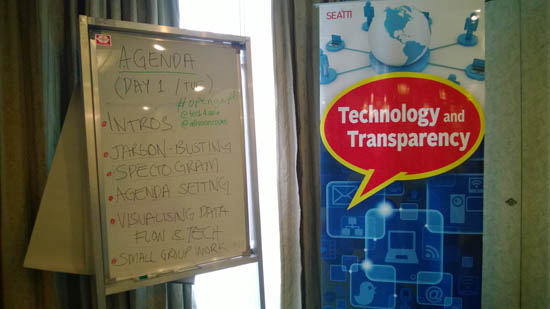 We used colorful post-its and colored pens for the jargon busting.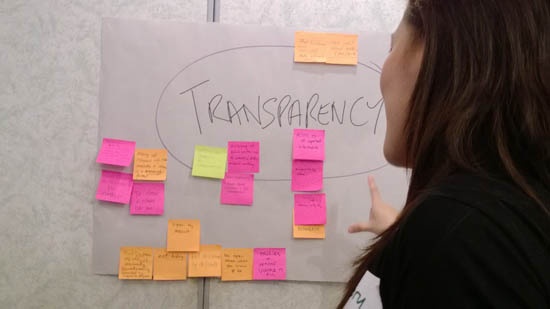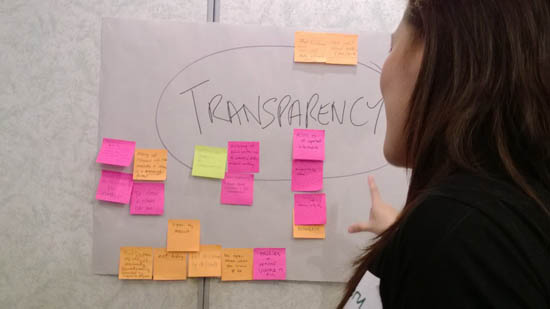 For example, each of us had to define what we meant by transparency, then later cluster similar definitions together. The same went for Open data.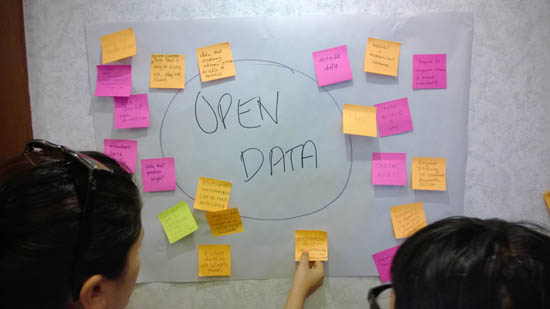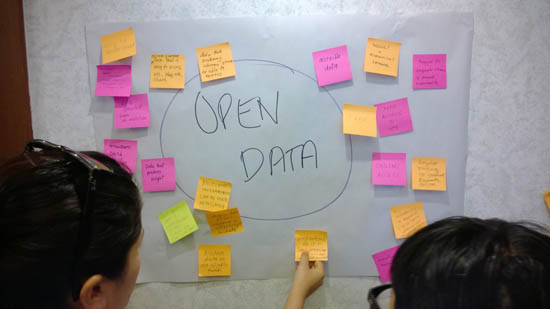 After the jargon-busting, our facilator asked us certain questions and if we agreed or disagreed. This activity is called the spectogram.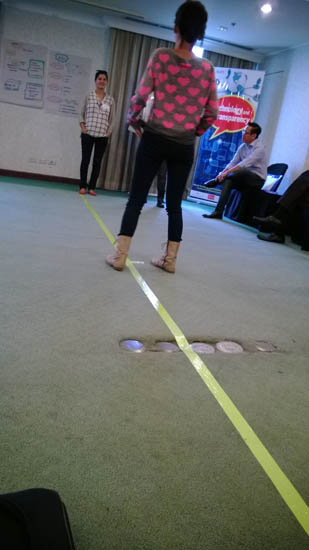 Although it is true that an Open Space event has no pre-determined agenda, it must have an overall structure or framework. The event aimed to foster better collaboration and dialogue between technology groups and civil society. Agenda setting is the time for the group to figure out what it wanted to do. The details for this procedure are given below.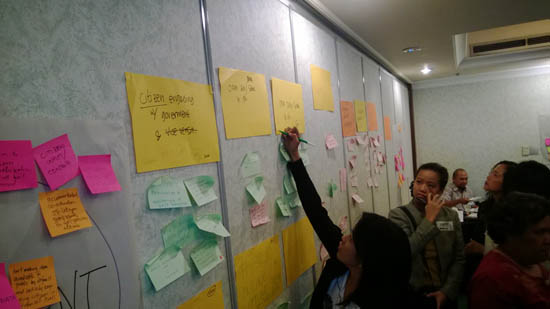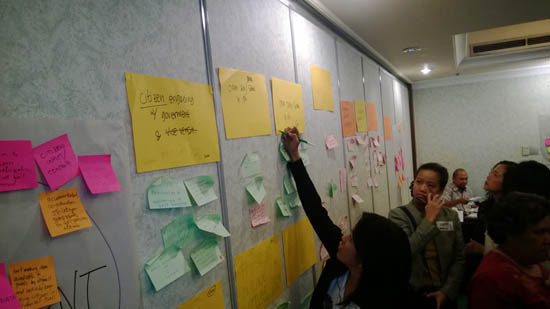 The participants were asked on " what issues or topics they would want to discuss for the next three days. They were also asked what skills they wished to learn or share with fellow participants. In this way, the participants were the ones who were allowed to set the agenda for the activity." Setting the agenda was built around the themes around open government, technology and citizen engagement to determine specific topics.
Now that all the possible topics are on the wall, people need to develop an agenda by determining when and where the session/discussion will be held. Give people time to discuss together, negotiate, combine similar session topics, and move sessions around so that most people can attend the key sessions of their choice.

By the time the agenda is complete, the community should have specific discussion groups determined, as well as the time and place for each group.

A number of groups should run simultaneously.
One of the topics that emerged was "Getting government to engage with wider citizenry".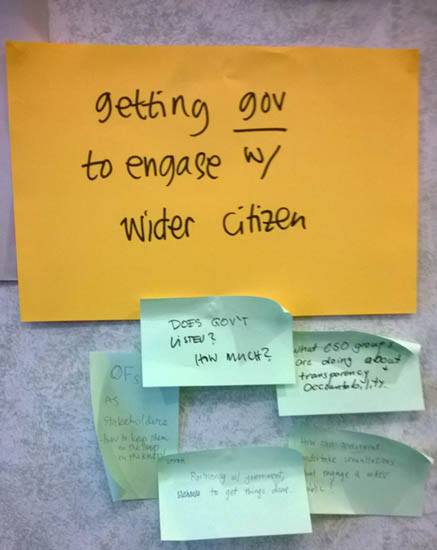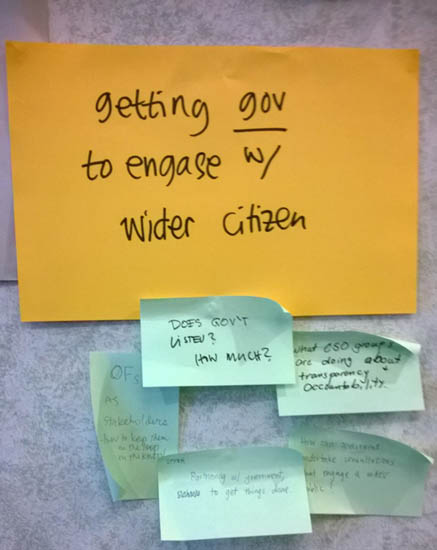 Visualization of data flow was next. We were told to create the data visualization flow of our work.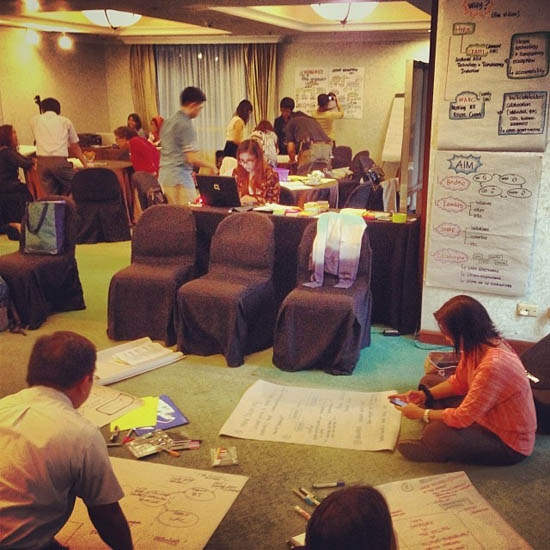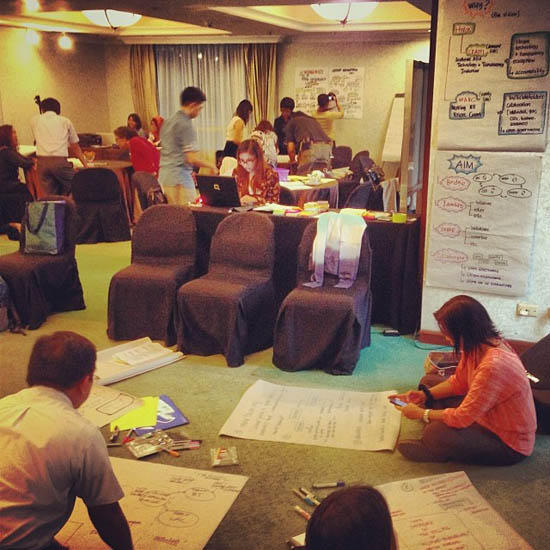 I thought I would not be able to draw the flow process but I did. Below you will see Blog Watch data flow on the left hand side of the image.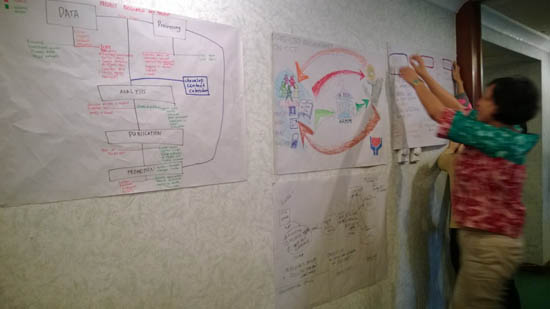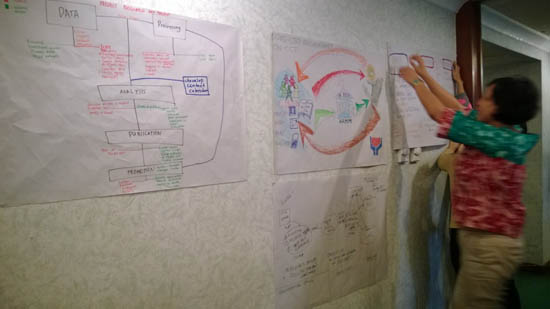 There were so many cool things we did . These are just the snippets of the three day event. One thing for sure,  there was never a dull and sleepy moment. Only an open mind.
You can read more at PCIJ's report on Transparency, info, and tech converge in 'unconference' and Lessons learned in an "unconference".
For more information about OST, please go to
http://en.wikipedia.org/wiki/Open_Space_Technology
http://peopleandplanet.org/goinggreener/skills/using-open-space
A brief User's Guide to Open Space Technology by Harrison Owen who created Open Space Technology
12 Tools for Transition. No.10 How to run an Open Space event