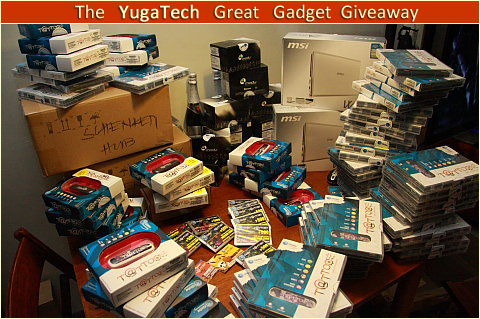 We don't get enough freebies to give stuff away this Christmas, but we know someone who does! Yugatech is giving away a Modu phone, Globe Tattoo kits, and P500 prepaid call cards to random Twitterers, bloggers, and commenters in the first part of the Yugatech Great Gadget Giveaway. Click on the jump to find out how to snag one of these goodies!
Below are the contest mechanics for Twitterers. Up for grabs are a Modu phone, 10 Globe Tattoo and 20 Php500 prepaid call cards randomly. That's 31 winners in all for the Twitter giveaway.
1) Follow @abeolandres and @talk2globe on Twitter.

2) Post a tweet "Just entered to win a Modu Phone. Quick! Go follow @abeolandres and @talk2globe and retweet: http://bit.ly/6e2q7O #thanks2yugatech"
Do you have a blog but no Twitter account? You can still join by following these mechanics. For the blog round, Yuga will give away another Modu phone, 10 Globe Tattoo and 10 prepaid load cards worth Php500 each. That's 21 additional winners for a total of 52 winners this week.
1) Blog about the "YugaTech Great Gadget Giveaway". Include the photo I posted here and link to this contest page.

2) Don't forget to include in your post the mechanics for the Twitter contest above.

3) Leave a comment here with the URL of your entry.
No blog and Twitter account? You can still join!
1) Leave a comment on this contest page with the answer to this question — "If you're stuck in an island with a phone and only have one call left, who would you call and why?".
Ten most witty or creative answers will each win Php500 worth of prepaid load cards from Globe.
You can join in any of the 3 separate giveaways above but you can only win once for this round. If you win twice or on all 3, you get the bigger prize.
Good luck to us all!