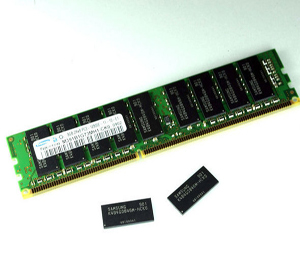 Most middle-class households around the world have at least one computer, and all these PCs can eat up a lot of energy. At the beginning of September, Samsung initiated its own global marketing campaign centered around "Less Energy, More Speed", initially focused on its energy-efficient, 40nm-class, 2Gb DDR3 DRAM. Now a new collaboration between Samsung and Microsoft means you won't have to worry about your energy consumption. The two companies are now encouraging PC users to purchase more environmentally friendly PC systems. Next year, many PCs should be equipped with Windows 7 and Samsung's 2GB DDR3 DRAM for better energy savings.
According to James Woo, Country Manager of Microsoft Korea, the Windows 7 OS is designed to be a more environmentally-sound and energy-efficient OS, particularly evident in its managing of memory and when shifting into lower power mode. There's no doubt that the combined Windows 7 and 40nm DDR3 in new PCs will make users happy, especially when they notice the increase in performance for less power.
Stay tuned for more news about this collaboration.