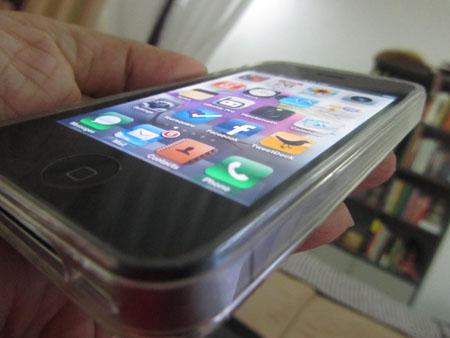 My iPhone 4 goes a long way from merely being a phone. Directions, entertainment, surfing, news feeds, and social media networking are all wrapped into a little elegant device with unlimited potential. As an active social media user, I use the iPhone as my main gadget for covering events or doing live interviews. It is a useful tool for live-streaming; live-blogging; uploading photos in Twitter, Facebook and Plurk; and even updating my self-hosted WordPress blogs.
Having previously owned an iPhone 3 and a 3GS, I was excited to see what the iPhone 4 had to offer. To my surprise, it didn't feel right at first. The box-like feel wasn't as smooth and curvy as my older iPhones. I soon forgot about the little inconvenience the moment I turned the phone on.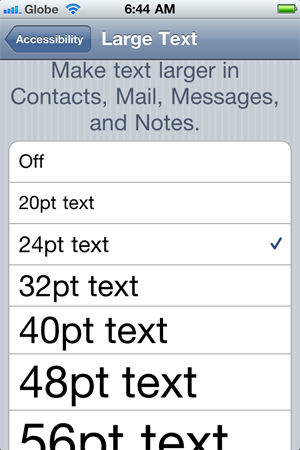 I wasted no time fiddling with the settings. The larger text in the accessibility function was quite impressive for a prime-time woman like me. It offered me the option to make text larger in contacts, mail, messages and notes, from a size of 20 pt to 56 pt. I chose 20 pt. No longer will I need to reach for my reading glasses to check on my text messages.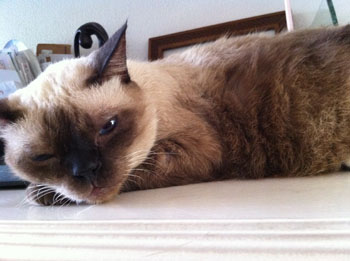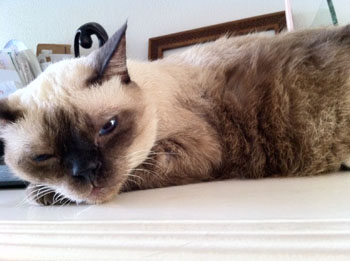 That is Kylee, our Siamese kitty. The HDR photo is to the bottom.
The crisp images from the retina display are gorgeous, and the screen resolution is simply breathtaking. The web surfing experience is faster than it ever was. The photos are stunning now that the iPhone 4 is capable of High Dynamic Range (HDR) photographs while on the go. The HDR setting results in photos that are close to what the human eye can see. The sharp close-up photos of food, amazing landscapes and outdoor photos are best shared at photo sharing sites like Flickr or Picasa.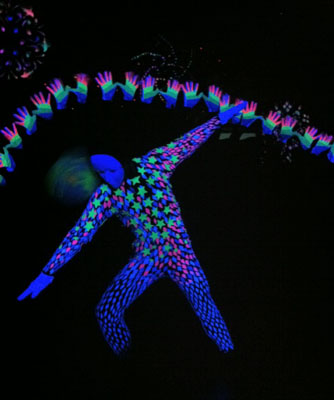 While it is tempting to use the HDR function to improve photo quality, it does not work for certain conditions like moving objects. The good news is it gives me the option of saving it as a normal photo. Photos taken at night under fairly low light conditions came out really good. I don't even have to turn on the flash, a new feature in the iPhone.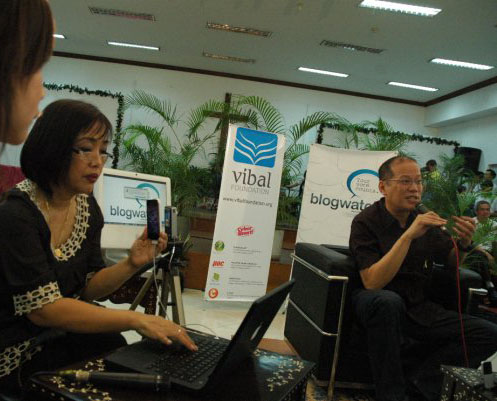 Using the iPhone on my left hand for livestreaming and the Flip cam on the tripod
Although the video delivered by the 720p capture is crisp even under low light conditions, I prefer to use my Flip video camera for video coverage during a fast-paced event. I hold my Flip in one hand while my iPhone is in the other, helping me do my live-blogging. The exception is during special events, such as live-streaming interviews with a politician or for breaking news. The live streaming applications of Qik and Ustream are best used with the iPhone 4.

Took this livestream video after President Aquino's Report Kay Boss, October 7, 2010. Starts at 5:09. The livestream channel is at http://ustream.tv/channel/bloggwatch.
The addition of a front-facing camera to the iPhone 4 plays a huge difference in live-streaming coverage. I can now switch between the front and rear camera as needed. I don't expect too many facetime calls, but I tuck a portable Wi-Fi modem in my purse just in case the need arises. Editing and uploading to YouTube is done after the event. Editing videos by adding transitions, themes, photos and music is so much fun with the iMovie app I bought for $4.99.

I have not uploaded my own video but here is one created by Abe Olandres
Overall, the iPhone 4 is a convenient gadget for techies on the go. Sometimes, I don't want to lug my heavy DSLR or laptop to events. The iPhone allows me to check my emails, moderate blog comments, and edit documents on the go, in traffic, or while waiting at a doctor's office. I can even log on to my laptop from home using a remote access app (such as Team Viewer). From my experience, I can say that the iPhone 4 is really one of the best gadgets to own when you want to maximize your social media experience.
Originally published on October 4, 2010 at the Manila Bulletin , Tech News section as "The Social Media Experience in iPhone 4". The images were not included though.