Tags
Related Posts
Share This
Nyne audio: bluetooth speakers for the active lifestyle
Add a plus one if you want to recommend this post to your network.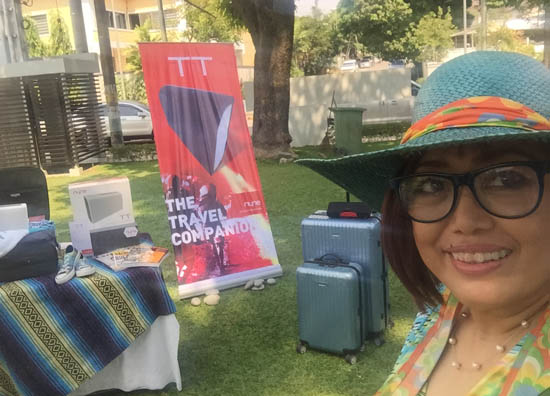 Don't you love how there is a speaker to suit your lifestyle? Whether it is for recreation, exercise, poolside fun, exploring the great outdoors and even at work, there is a speaker to suit your lifestyle. Nyne presented its bluetooth speakers with the different types of speakers spread strategically around the garden area: Nyne Bass, Nyne TT, Nyne Cruiser, Nyne Mini and the Nyne Aqua. Here is a video I took of the Nyne bluetooth speakers at the garden of the Greenhills Clubhouse:
Let's take a look at each Nyne lifestyle inspired audio:
Nyne Aqua
The Nyne Aqua is my favorite bluetooth speaker. It's the favorite companion to an afternoon swim. The Nyne Aqua takes a new spin to the concept of taking your music anywhere, whether it be at the beach, shower, the pool or the bath.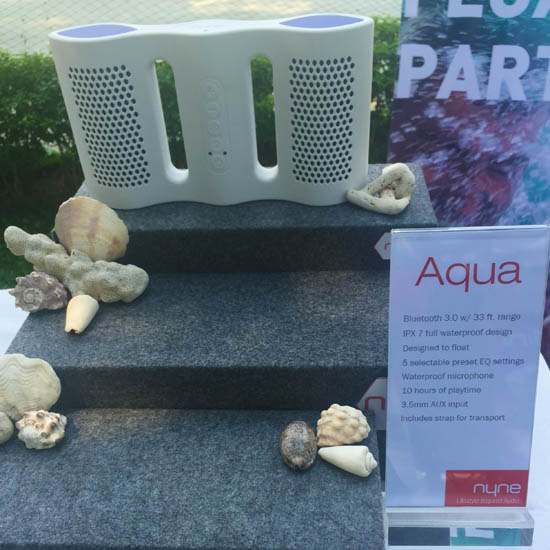 With its IPX-7 waterproof rating and silicone carrying band, the Aqua can hang with you anywhere. The Aqua features up to 10 hours of rechargeable battery power, on board controls, and four equalizer settings. You can even make a handsfree SOS call via Aqua's built-in speakerphone.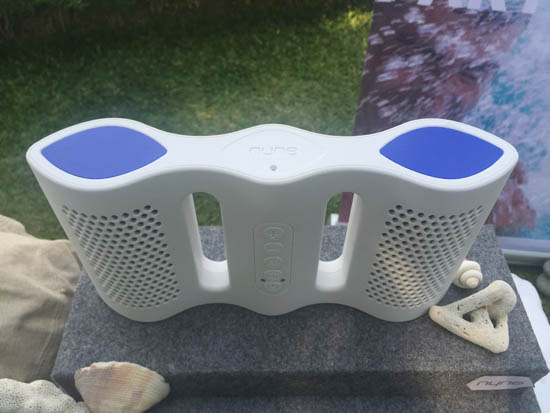 It is completely floatable, making it the perfect audio gadget at the poolside.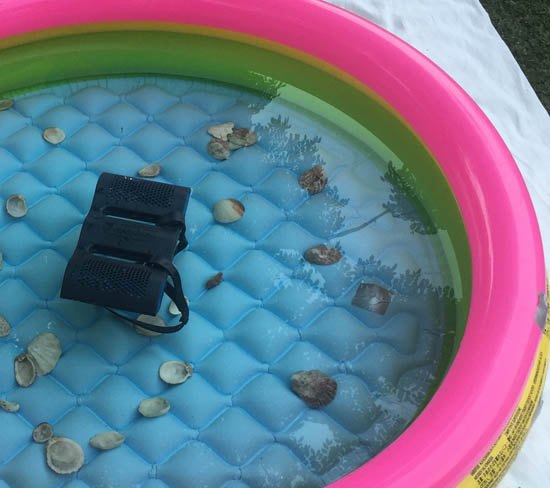 The SRP of the Nyne Aqua  is 9,500 pesos.
Nyne Bass
My next favorite speaker is the Nyne Bass which is perfect for outdoors. With 20 watts of output power and a hidden carrying handle, it is the perfect speaker for campers, gamers, beach goers and outdoor parties.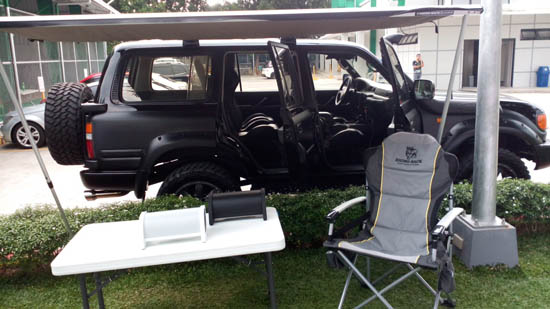 The Nyne Bass is powered by a rechargeable 4400 mAH Lithium battery With a tough rubberized  20 booming watts of power, integrated power bank and hands-free microphone for hands free calling, the NYNE bass will raise any outdoor gathering to a whole new level of entertainment.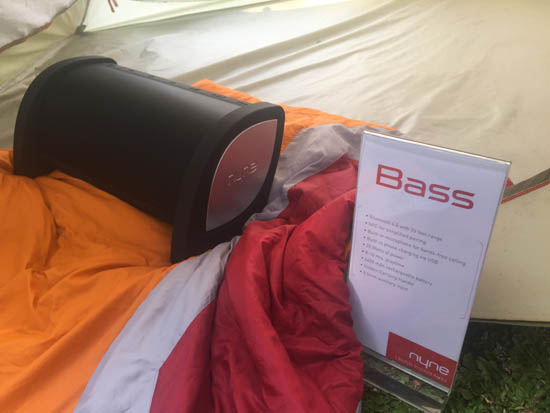 The Nyne Bass has 10 hours of playtime, NFC for simplified pairing  and a bluetooth 4.0 with 33 feet range. The SRP of the Nyne Bass is 10,500 pesos.
Nyne Cruiser
The Nyne Cruiser is a rugged  portable wireless bluetooth speaker for those on the move. If you are a bike enthusiast, there are adjustable handlebar mounting clips .  Use the carabineer to clip the Cruiser onto  your backpack and take a hike.
The versatile Nyne Cruiser features a 10 hour rechargeable battery, state-of-the art NFC technology and a built-in noise-cancelling microphone for hands-free calling.  It features 10 hours of playback time on a single charge, a built-in microphone for speakerphone functionality and bluetooth connectivity up to 33 feet.  The USB port allows you to charge phones off the speaker's battery. and has a universal handlebar mounts for attaching the speakers to the front of your bicycle.  Bluetooth 4.0 means strong signal even up to 33 feet away and NFC supports simple pairing for your NFC-enabled device.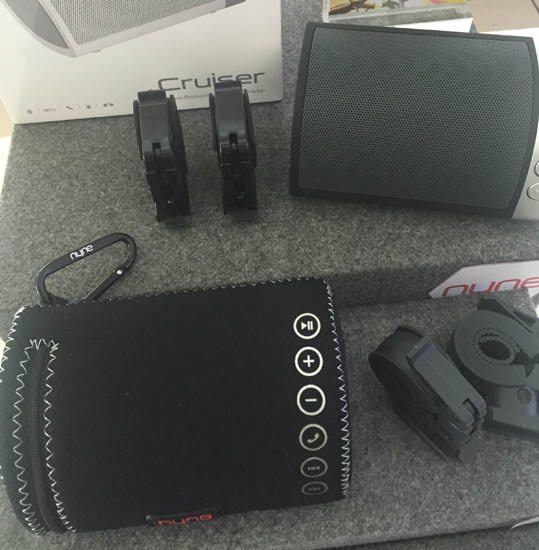 The SRP of the Nyne Cruiser is 6,550 pesos.
Nyne TT
Remember the boom box of the Eighties? I wonder if this speaker will be useful in this time and age. People do not like to be disturbed with someone's music.  I would get annoyed if a person travelling with me turns their speaker on?  This modern version Bluetooth speaker comes in a trendy, unobtrusive black shoulder bag for transporting the Nyne TT with you at the park, golf course, poolside or a party with friends. Designed for use outdoors, the speakers are pretty loud for their small size.
The unit contains a pair of great-sounding 7-watt speaker drivers that delivers lots of low-end bass. It does not sound tinny unlike a large number of other mini-sized bluetooth speakers .  The Nyne TT has a rubberized body for repelling accidental water splashes.  The speaker set comes in urban black with matching shoulder bag.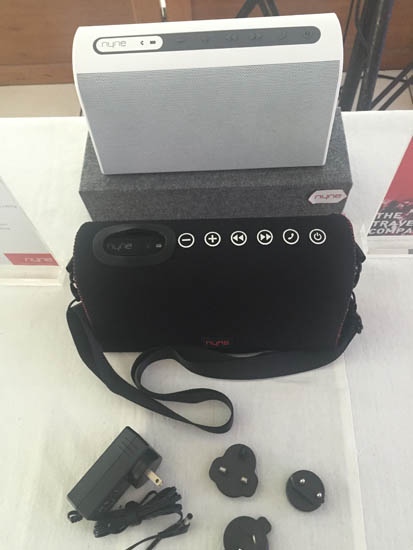 The SRP of the Nyne TT is 9,500 pesos.
Nyne Mini
The Nyne Mini is the most affordable bluetooth speaker. It is the model of choice for those who want to keep it simple and handy. Teens and tweens will surely love the Nyne Mini.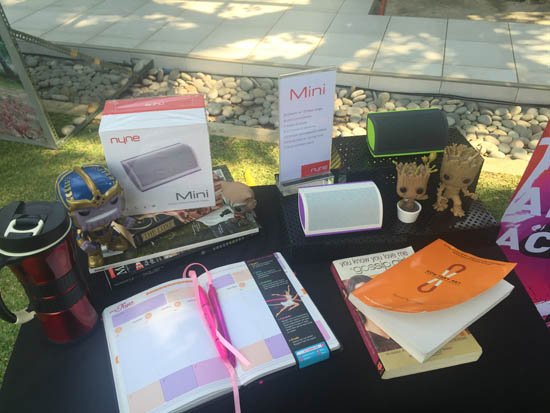 It comes with a rechargeable battery, a rubberized cover and a carabineer for sturdy attachment to a backpack.  Like the other speakers, it has 10 hours playtime; built-in microphone for hands-free calling. It has 5 watts of power.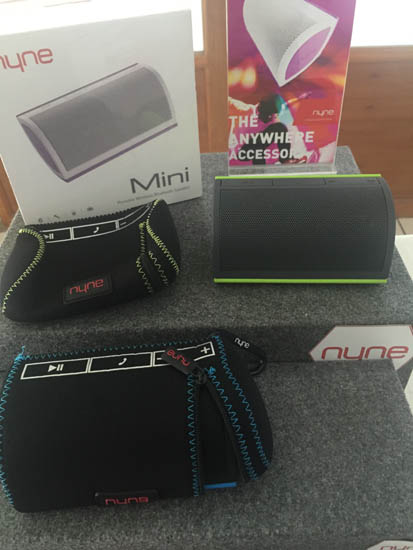 The SRP of the Nyne Mini is 3,850 pesos only.
What is your favorite speaker?
Nyne audio are available in select Apple resellers, music stores, premium gadget shops, outdoor lifestyle shops, urban lifestyle shops, appliance centers, and premium department stores. You can also find them on facebook.com/NyneAudio.ph and on instagram (@nyeneaudioph)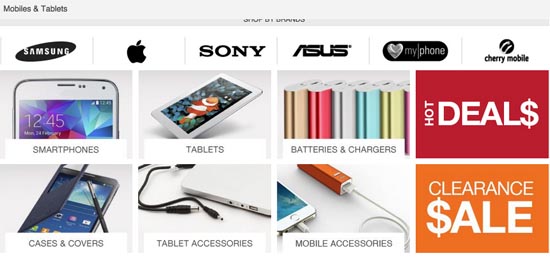 Shop for your mobile and tablet needs at Lazada
Read the
Disclosure and Privacy Policy
of this blog