Tags
Related Posts
Share This
My buddy, the Flip Ultra HD Camcorder
Add a plus one if you want to recommend this post to your network.
If my Flip and the Flip ultra HD could talk, it would tell you the story of my first attempts at citizen journalism in early August 2009, during the wake of former President Cory Aquino. It will also tell you the times I interviewed the seven presidential candidates, some national and local candidates, covered the automated elections, the breakdown of the PCOS machines and the long queues. The Flip Ultra HD witnessed the Inaugural and state of the nation address of President Noynoy Aquino. So many historical firsts just using the Flip. It was also probably a historical first for the Flip Ultra HD to take video coverage inside Malacañang. Alongside the huge TV cameras, the small Flip Ultra HD captured the good news that the new administration will acknowledge the role of bloggers as citizen watchdogs. It is also the first time I wrote for a newspaper. Here is the rest of the article, My Buddy, the Flip ultra HD camcorder and my Flip videos at youtube.com/blogwatchdotph or youtube.com/newmediapublisher
Can you spot my nifty Flip?
Covering former President Cory Aquino's wake, August 3, 2009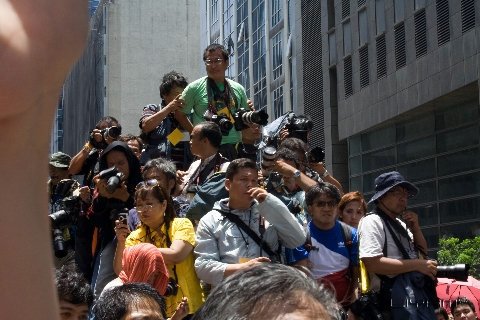 (Photo credits to Liyam)
Blog Watch Interview with then presidential candidate, Noynoy Aquino on February 6, 2010 just before the campaign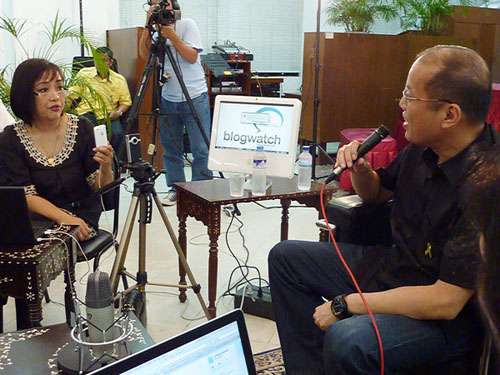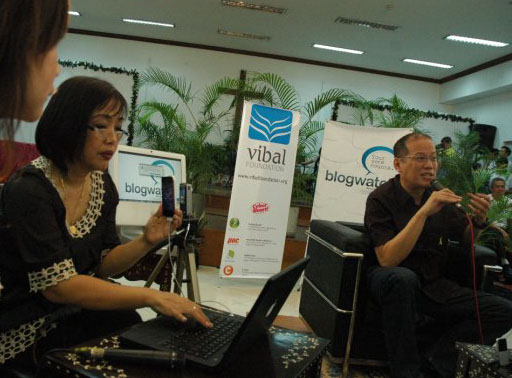 Using the Flip Ultra HD at the Inaugural, June 30, 2010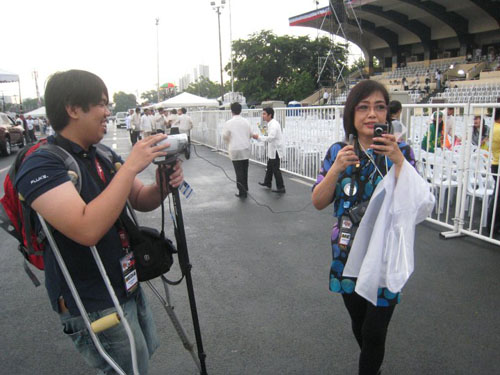 (photo credit: Jane Uymatiao)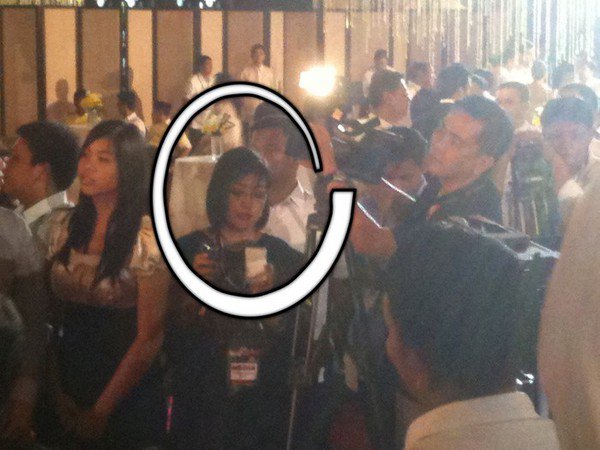 (photo credit: TJ Manotoc)
See the difference in resolution between the Flip Video and Flip Ultra HD camcorder
Video sample of the Flip Video Camcorder

Video sample of Flip Ultra HD

Here is how my article looked in print:
My First Tech News Article in Manila Bulletin on the Flip Ultra HD
Full Article
My buddy, the Flip Ultra HD Camcorder
By Noemi Lardizabal-Dado
A lot of people are often amazed as they motion towards the Flip Video Ultra I hold snugly in my left hand as I pan the activity in the room. I simply say, "It's The Flip".
My Flip was a head turner in 2009, when few owned the Flip Video Ultra in Manila. My Flip is black, but there are other colors like pink, green and white.
I first heard of the Flip Video Camera when my sister, Lorna, shot a video of my daughter as she dressed up for a Halloween party in Chicago in 2008. I didn't think much of it until May 2009, when Lauren surprised me with an advanced birthday gift, The Flip. I know how to edit videos in my Macbook using iMovie, but using the Flip made my editing task much easier and faster.
If my Flip could talk, it would tell you the story of my first attempts at citizen journalism in early August 2009, during the wake of former President Cory Aquino. My Flip helped me be a witness to the outpouring of love from all walks of life as I took videos of the scene unfolding before me while seated, feet drenched inside my shoes, on top of a moving truck for nine hours. The people braved the rains, the long queue, and the wait just to see their beloved President Cory off to her final resting place. My Flip served me well as my constant buddy in all the interviews as I took the new role of editor in a voters' education portal, BlogWatch.ph. My Flip captured video footage of presidential candidates Manny Villar, Ed Villanueva, Nick Perlas, JC de los Reyes, Gibo Teodoro, Dick Gordon, Noynoy Aquino, and many senatorial and congressional candidates as they explained the plans they had for our country. Holding my Flip in my left hand and typing on my netbook with the right, I captured all their promises on video. My Flip witnessed the crowded precincts on election day, the breakdowns of the PCOS machines, and the frustration of tired voters waiting in line for hours.
The Flip served me quite well, until it conked out shortly after election day. Though I could easily use my iPhone and Sony Ericsson cellphone camera, it just wasn't the same as my buddy.
I didn't want to spend on a new Flip video camera because my Flip holds sentimental value to me, and I believed it still could be repaired. Eager to document the Inaugural and the State of the Nation Address, I was hoping that my Flip would be fixed just in time before those historical dates.
The Flip Ultra HD
As luck would have it, a good friend lent me his Flip Ultra HD Camcorder while he had my camera repaired in Singapore.
Like my own Flip, the Flip Ultra HD Camcorder is a pocket-sized, easy-to-use digital camcorder that records videos with a single press of a button. The Flip Ultra HD is slightly larger than my Flip, but has the same simple user interface that allows me to start recording the moment I turn the device on. With its convenient flip-out USB plug, I can upload videos directly to my Macbook and netbook without untangling any cords. With the pre-installed FlipShare, I can easily edit the video clips and upload them to my YouTube channel.
What makes the Flip Ultra HD different is that this device can capture videos in HD820p (1280 x 720) at 30 frames per second (fps) progressive scan, resulting in crisp, clear images that look stunning on an HDTV. If I was amazed at the clarity of the videos from my trusty old Flip, the video quality of the Flip Ultra HD was even more impressive. It's also equipped with AAC audio, which means that all speech on the clips will sound clearer than before. With the included HDMI output, enjoying captured moments on HDTV is as easy as uploading them to my computer. Additionally, the Flip Ultra HD comes with two rechargeable (and replaceable) AA batteries that charge up when I attach the device to my computer.
A historical first
The Inaugural was a historical first for bloggers – if not globally, at least within the Philippine blogosphere. What made the event even more special was that Blog Watch's accreditation marked the first time that a blogger group was officially allowed to cover a presidential inauguration from start to finish. Traditional media was pleasantly surprised to see me and my fellow mom blogger, Jane Uymatiao, at the new administration's first press conference in Malacañang Palace. Holding the Flip Ultra HD, I captured the press conference because I was totally unaware that the whole press briefing was covered live by the government TV channel. It was also probably a historical first for the Flip Ultra HD to take video coverage inside Malacañang. Alongside the huge TV cameras, the small Flip Ultra HD captured the good news that the new administration will acknowledge the role of bloggers as citizen watchdogs.
I was so impressed with the video quality of the Flip Ultra HD that I've decided to buy one. The Flip and the Flip Ultra HD will be here to stay as two of my main gadgets while I continue to be a part of a citizens' watchdog for transparency and good governance. The videos will go a long way in providing reportage on underplayed stories that traditional media cannot possibly cover due to time constraints and limited resources.
What I love about the Flip Ultra HD
The Flip offers much more than a plain cellphone video recorder does. Though it doesn't have all the features or the quality of a professional video camera, it actually comes a lot closer than I expected. The convenience of editing and uploading to YouTube allows me to show the video within 24 hours, much faster than other videographers at the scene.
I am hooked on the Flip Ultra HD, and here's why:
1. I like the simple plug-and-play video camera that features a hideaway USB connector. It is so simple and fun to use, you won't need an instruction manual for it. There's a 2-inch LCD display screen where you can view the footage you're recording or clips you've already recorded. To record, simply press the large red button at the center. To navigate through the device, use the four-way buttons surrounding the record button.
2. The batteries can be charged in two ways: you can buy a wall-charger accessory or plug it into your computer via the flip-out USB arm. The wall-charger isn't necessary, but it does charge batteries much faster than the USB plug, which can take as long as 6 hours for a full charge.
3. The built-in FlipShare software makes viewing and sharing videos incredibly easy.
You simply select the clips you like, click a button, and a few minutes later, the software spits out a movie "mix," complete with transitions and special effects. It even adds some background music, whether from a set list or your own choice of background music.
4. Video editing is easy and fast. I usually move the files to a folder and save them there. Each video can be edited using the "scissor" in each video pane. All you need to do is click that scissor graphic and a new window pops up. Just drag the start button located to the left to indicate the start of the clip, and the "end" button to the right indicates the end of your edited video. Just drag these buttons to the desired video clip, and then save the edited file. I save it by filenames "1?, "2?, "3? and so on. Remember, you can also pull a single frame (still photo) out of the video and add it to your movie
Despite its wonderful features, there are some limitations to the Flip Ultra HD:
1. Limited storage or no removable memory card. If I take my Flip on extended vacations, I might not have time to download videos to my Macbook. If you shoot videos over a week–or even a few days– the two hour capacity gets used up really fast.
2. There is no optical zoom. The 2x digital zoom means that you have to move really close to your subject. It isn't also wise to shoot too closely as it tends to blur. With this limitation, it helps that I am right across the interviewee.
3. The battery life allows you to record videos for up to just 2 hours. Fortunately, Pure Digital lets you use regular AA batteries if the device runs out of power. One should always bring spare batteries as it might not last the two hour video recording.
Convenience is one of my highest priorities in a digital video camera, and the Flip Ultra HD video is a wise and effective choice for my current needs as a blogger. While I have not perfected everything in my coverage, I am aware that I will encounter bloopers along the way – but that's all part of my learning curve as a citizen journalist. As an ordinary citizen empowered with the latest technologies, the right gadgets go a long way in sending out real-time updates and capturing raw, unedited video for my readers to peruse at their convenience. My hardworking digital buddy, the Flip Ultra HD, stays inside my handbag, ready for use at a moment's notice.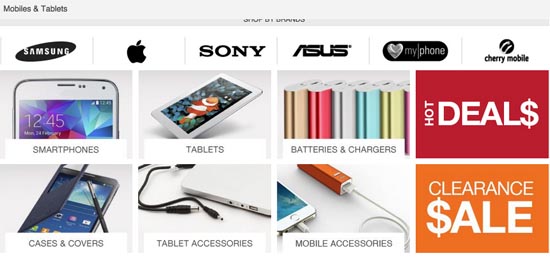 Shop for your mobile and tablet needs at Lazada
Read the
Disclosure and Privacy Policy
of this blog