Tags
Related Posts
Share This
Smart Rewards: Enjoy Freebies, Discounts, and Special Treats
Add a plus one if you want to recommend this post to your network.
We use our cellphones to communicate with co-workers and loved ones everyday, but did you know that Smart is giving away freebies and discounts just for using your Smart phone? I bet you didn't! Smart Rewards is their new customer rewards program where you get free text messages, bill rebates, internet time, discount coupons, and more!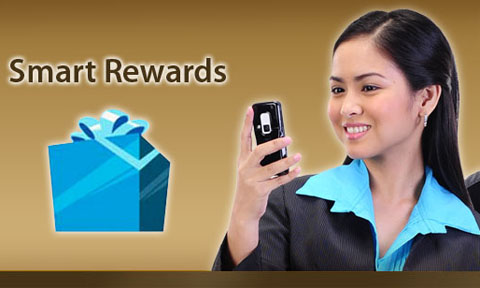 Basically, Smart gives you 5 points for each peso you top-up at your prepaid account, or for each peso charged to your postpaid account. All you have to do is accumulate these points and exchange them for your free items, coupons, and rebates. You can also obtain discounts for over 100 restaurants and stores nationwide without spending your points (more on this in a bit)!
Joining Smart Rewards is super easy. For Smart Gold and Smart Buddy subscribers, text REWARDS to 9800. For Smart Bro subscribers, visit Webconnect and create an account.
To check your points, text POINTS to 9800. For Smart Bro subscribers, log on to WebConnect and click Inquiries.
Here's a quick rundown of what you can do with your points:
Smart Buddy
1,300 points – 20 free Smart to Smart SMS, 10 SMS to all networks, valid for one day. To redeem, text REDEEM AllText10 to 9800
3,000 points – 50 SMS to all networks, valid for one day. To redeem, text REDEEM LahatText20 to 9800
3,800 points – P15 Smart load, valid for one day. To redeem, text REDEEM Load15 to 9800
5,000 points – 100 free Smart to Smart SMS, valid for 2 days. To redeem, text REDEEM 100 to 9800
25,000 points – P100 Smart load, valid for 10 days. To redeem, text REDEEM Load100 to 9800
Smart Gold
12,500 points- P50 off your next bill. To redeem, text REDEEM 50 to 9800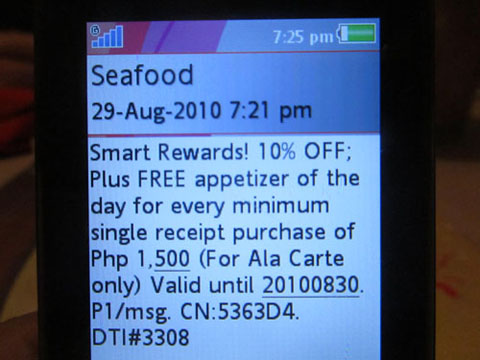 You can also get rewards without spending your points. These rewards are the exclusive discounts to over 100 establishments, which you can get by downloading coupon codes to your mobile phone! Just text COUPON to 9800 for free. For a list of available merchant codes, visit www.smart.com.ph/rewards and click on Discounts.

So what are you waiting for? Avail of your well-earned rewards and freebies by joining Smart Rewards today!

Google+



Read the Disclosure and Privacy Policy of this blog