Tags
Related Posts
Share This
One Laptop Per Child Will Release a Sleek Touchscreen Tablet
Add a plus one if you want to recommend this post to your network.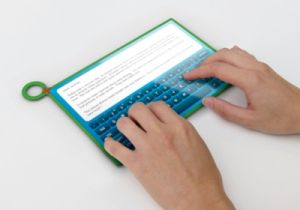 Christmas is all about giving, and it seems just right to feature the new laptop made just for the charity program, One Laptop Per Child. In case you haven't heard of it, One Laptop Per Child (OLPC) is a charity founded and run by Nicholas Negroponte, with the aim of providing one laptop for every child in developing countries. The charity intends to do so my selling ultra-cheap laptops to Westerners for double the retain price, enabling the buyer to buy a laptop for himself/herself and a laptop for a child beneficiary. Current designs for the OLPC program look pretty unimpressive but the new design for the 2012 OLPC is something worth blogging about. It's called the XO-3, and this 8.5″-11″ device is actually more of a tablet than a laptop. It's completely stripped down to the basics and only features a touchsreen. To protect it from the wear and tear of everyday life, the laptop will be made entirely of durable, waterproof plastic and has a ring to act as a hand-hold. The laptop will have a 8GHz processor but uses less than one watt of power, as well as a camera.
I really hope the XO-3 really does get launched, but it looks like we'll only find out on 2012.
Read the
Disclosure and Privacy Policy
of this blog