Tags
Related Posts
Share This
Asus Eee PC, Most Wanted Christmas Gift Among Notebooks Products
Add a plus one if you want to recommend this post to your network.

The ASUS Eee PC is once again in the limelight. This time, it has been billed as America's most wanted Christmas gift among notebooks products. Several large American shopping websites have started investigating what the average American would want as a Christmas gift in lieu of the fast approaching Christmas buying season; and the result from the American Amazon shopping website and CNET based on 14th of November unanimously places the ASUS Eee PC at the top spot on the wish list. Mobilemag.com says that the Asus Eee PC is the most wanted christmas gift among Notebook Products. According to Amazon and CNET, the Asus Eee PC could quite possibly be more sought after than Guitar Hero III or the Nintendo Wii. Nearly every retailer who carries the Eee PC has been sold out of the tiny laptop for some time and even when they do get stock, the units are snatched up before they hit shelves. Sales figures since the release have been astounding, with 200 pieces snapped up in 20 mins on Taiwan shopping channel, ETTV Shopping – averaging an Eee PC sold every 2 seconds! (View Photos of Asus PC Eee)
Check out this youtube video of the Asus Eee PC
The Asus Eee PC comes in new incoming exciting color schemes: Pure White, Lush Green, Sky Blue, Blush Pink, Galaxy Black by Nov. 29, 2007
How to order/purchase your Asus Eee PC in the Philippines
In the Philippines, you can buy the Asus Eee PC in Greenhills GHZ Computer Products, Virramall Shopping Center. Tel Number 727-7842
Aside from GHZ Computer Products, you can buy an Asus Eee PC starting at a 15,999 pesos at the PC Corner (Click here to order Asus Eee PC) or send an SMS for faster communication to +639178531888
Complete Specifications of the Asus Eee PC are:
basics:
EeePC 701 = *easy* concepts: *Easy to learn, Easy to play and Easy to work.*
Subnotebook (white) —
900MHz Intel® Celeron® M ULV 353
Mobile Intel® 910GML Express
Intel® GMA 900 (integrated) with external VGA-out connector
512Mb DDR2-667MHz (single slot)
American Megatrends, Inc. (AMI) ——> BIOS . . .may come in handy during updates
Media 2.0Gb flash memory**
Input Keyboard / Touchpad
AU Optronics 7in. WVGA (800×480) TFT-LCD @ 800×480*
built-in 300Kb pixel video camera
5200mAH battery – battery Life: 3Hrs. . . . . . not the smaller 4400mAH
10/100Mbit Ethernet+ 802.11b/g wireless LAN
3-USB 2.0 ports
MMC (plus) / SD(HC) – card reader
Optical Disk Drive – None
5.1-channel High Definition Audio (Realtek ALC6628)
built-in stereo speakers
microphone
NO MODEM
MMC/SD/MS card reader
0.92Kgs. (2.0lbs.)
22.5 x 16.4 x 2.15~3.5 cm. (8.86 x 6.46 x 0.846~1.4 in.)
color choices: white, black, and three pastel hues (green, blue, pink)
operating system:
Linux-based, Xandros, Microsoft® Windows® XP compatible
cheapest model:
cheapest model starts from PhP 15,999.00 … Eee PC 2G Surf . . .7in. / 256Mb Memory / 2Gb SSD / 4-cell 4400mAH / .92Kgs.
colors:
Pure White, Lush Green, Sky Blue, Blush Pink, or Galaxy Black.
configurations: (sorted thru screen size / processor)
all 7in. / Cel-M:
Intel® Celeron® M (256Mb) / 02Gb Media Flash Drive ———> PhP 15,999.00
Intel® Celeron® M (512Mb) / 02Gb Media Flash Drive ———> PhP 16,999.00
Intel® Celeron® M (512Mb) / 04Gb Media Flash Drive ———> PhP 17,999.00
(currently available in Pure White, introductory price)
Intel® Celeron® M (1.0Gb) / 04Gb Media Flash Drive ———> PhP 19,999.00
(currently available in Pure White, introductory price)
Intel® Celeron® M (1.0Gb) / 04Gb Media Flash Drive ———> PhP 20,999.00
(currently available in Bush Green, Sky Blue, Blush Pink, or Galaxy Black . . .all yummy color prices, just arrived !!!!!)
all 7in. / P-M:
Intel® Pentium® M (512Mb) / 04Gb Media Flash Drive ———> PhP 21,999.00
Intel® Pentium® M (512Mb) / 08Gb Media Flash Drive ———> PhP 23,999.00
Intel® Pentium® M (1.0Gb) / 08Gb Media Flash Drive ———> PhP 24,999.00
Intel® Pentium® M (512Mb) / 16Gb Media Flash Drive ———> PhP 24,999.00
Intel® Pentium® M (1.0Gb) / 16Gb Media Flash Drive ———> PhP 25,999.00
all 10in. / P-M:
Intel® Pentium® M (1.0Gb) / 08Gb Media Flash Drive ———> PhP 27,999.00
Intel® Pentium® M (1.0Gb) / 16Gb Media Flash Drive ———> PhP 29,999.00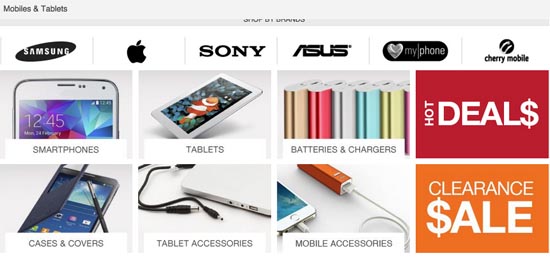 Shop for your mobile and tablet needs at Lazada
Read the
Disclosure and Privacy Policy
of this blog