Tags
Related Posts
Share This
Nokia 5730 XpressMusic Phone is a QWERTY Phone
Add a plus one if you want to recommend this post to your network.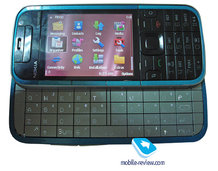 Maybe it's because I'm used to texting using a numeric keypad, but I'm not the biggest fan of QWERTY keyboards. And Nokia didn't seem content with releasing the N97 as the bastion of all QWERTY phones; they just came out with the 5730 XpressMusic Phone. The new Nokia 5730 comes with a two-inch QVGA screen, a slideout QWERTY keyboard, as well as a numeric keypad. Other features include a Symbian 60 OS, GPS, a microSD slot, a dot-matrix styling on the QWERTY keys, and four and a half hours of battery life.
The downside? The Nokia 5730 XpressMusic phone doesn't come with 3G. But then again, those who'd want to type on their mobile phones on the train to work and back are probably better off with an N97.
Read the
Disclosure and Privacy Policy
of this blog